Regan and Sasha Perry are brothers, fathers and musicians. Roots and Reggae music has been their signature sound, but their music style is as eclectic as their upbringing. Both brothers share their story with Justine Murray in part two of the Te Ahi Kaa music series, Manu Tioriori.
Regan and Sasha Perry have lived in towns all across Aotearoa, but it's Te Kuiti in the King Country they call home. The siblings have been writing songs for years, inspired largely perhaps by the tight-knit Māori community they grew up in. They mention the whanau names in Te Kuiti who were well known for their musicianship, many of the amazing guitarists as they describe, worked in the local meat works.
At 13 years old, according to Sasha, Regan became famous in the small town for this guitar skills, they busked on the streets and played music at the school galas. It wasn't always idyllic for the brothers who lived in foster homes at one stage of their lives, and were homeless too.
They penned the song All Against Me, that speaks to that experience.
We were asking each other have you got somewhere to sleep? We both said no, and so we wrote a song about it.  We have both been homeless, we both know those feelings. But even though we are pale skinned, once you start talking to us, you know there is a lot more aroha inside of us than your average person.  We are real people...that's what Te Kuiti teaches you, just be humble.

Regan and Sasha Perry.
Regan would eventually leave Te Kuiti to do a music course in Hamilton. Sasha would leave too to begin a career as a television Director and Producer, he worked on the show Roots Music in the early days of Māori Television.
Regan would go on to play with Cornerstone Roots for ten years and tour with the band in Aotearoa, Japan and Australia. Over the years he has performed with the likes of Katchafire, Kora and Rhombus. 
Inevitably Regan would move into forging his own career. In 2009 his debut album Wiser was released.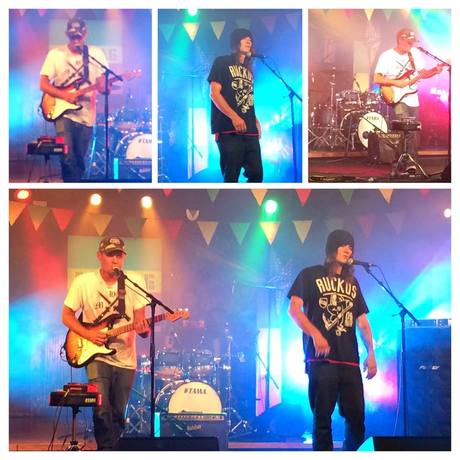 I'm not doing it (music) thinking we've got to make this hit, and its gotta have this in it. I don't think its ever been like that. There's got to be some kind of balance in your life where you're not focusing just on that, you've  got to keep everything else going in your life.  With my dad passing away, I said to myself I've got to say something,  so I went out to say stuff really, we both get to say it together, in harmony, it's great.

Regan Perry on songwriting.
Sasha plays regular gigs with his band F.T.W and performs as lead vocalist with his band F.T.W with Regan at his side as lead guitarist.  Their brother bond is pretty special, Sasha explains the matching F.T.W tattoos they have on their necks.
Mine was originally for F*** the World, because I was pretty angry at the time, and then we've had  a million versions of what it means. Feed the Whanau, Finally Truth Wins, Free the Weed. I think we use it as our symbol that we are artists for life.

Sasha Perry.
Waiata featured include: F.T.W, Back Then, Jah Jah, Slide,Broken Bones from the album Maui (2013), Jah Magic by Sticks and Shanty from the album Māori Reggae Volume 1 (2001) All Against Me by Regan and Sasha Perry as recorded live, 2015.