In the Far North, Captain Harding Leaf is quite legendary. He fought in the first World War at Gallipoli and on the Western Front.  An athletic man who also was known for his keen sense of humour, he served as  Lieutenant in the Pioneer Battalion from 1914 – 1918, and enlisted in World War II in 1939.
Te Hikutu hapū is located in Whirinaki in South Hokianga, and is a ten minute drive from Opononi and Rawene. This was the home of Captain Harding. He enlisted first in 1914 at the age of 24. It's also the home of Helene Leaf, the grand-daughter and Anania Wikaira the great grandnephew of Captain Harding.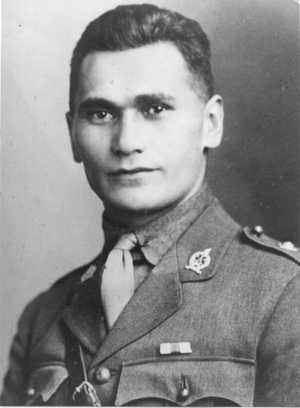 This ANZAC weekend they will take the kawe mate (the memory of Harding) to Te Māhurehure Marae in Auckland so the wider Nga Puhi and Te Hikutu descendants are able to rekindle that connection to Captain Harding. Helene Leaf will take a photo to hang in the Whare Tipuna at the Marae.
Whangarei based Radio New Zealand National Lois Williams is with Helene and Anania  who talk about the service and the    reputation of Captain Harding as recorded on CD the whanau compiled in 2006.                                                 
It includes details about his enlistment and the story of why he was awarded the Military Cross. Captain Harding was killed in action in Crete, 1941.
Although the service of Captain Harding is one of notable admiration by his descendants, there is the darker side where some Ngā Puhi māori men returned home broken and damaged. Helene and Anania talk about how after effects of war impacted upon their whanau.
Photo: Captain Harding Waipuke Leaf, Photo: Bradley Whanau.