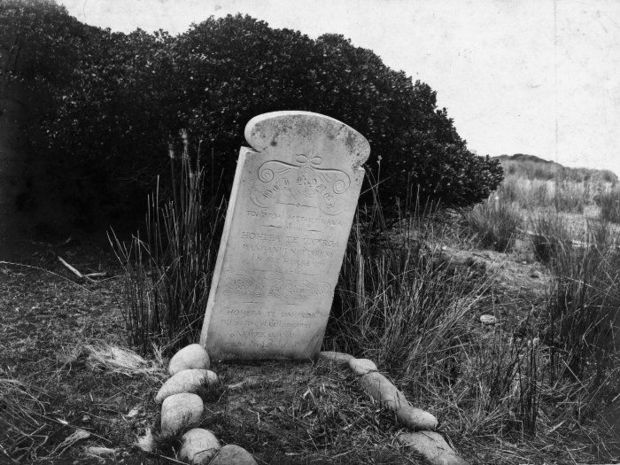 Grave of Hohepa Te Umuroa. New Zealand Free Lance : Photographic prints and negatives. Ref: PAColl-6388-58. Alexander Turnbull Library, Wellington, New Zealand.
The stories of Hohepa Te Umuroa of Ngāti Hau (Te Ati Haunui a Pāpārangi), Khoi San Leader David Sturraman and Aborigine Musquito are woven into a documentary produced by Lorena Allam and Louis Mitchell from the Social History show Hindsight broadcast on Australian Broadcasting Corporation's (ABC) Radio National.
Hohepa Te Umuroa (c. 1820 – 1847) was arrested and charged with rebellion against the Queen following an attack at the Boulcott farm in the Hutt Valley. Following a court martial for Hohepa ordered by Governor George Grey; Hohepa and five of this kinsman were not able to defend themselves in court due to language barriers and no legal representation, the men pleaded guilty.
Instead of regarding the men as Prisoners of War, they were shipped off as Criminal Convicts to Van Diemens Land, and then to a penal colony on Maria Island, Tasmania.
In this documentary, historians Kristyn Harman and Clare Land tell the stories of these three men, the reasons why they were taken away from their homelands to their sad deaths on foreign soil, and the emotional plight of the men's descendants to return their bones, home.