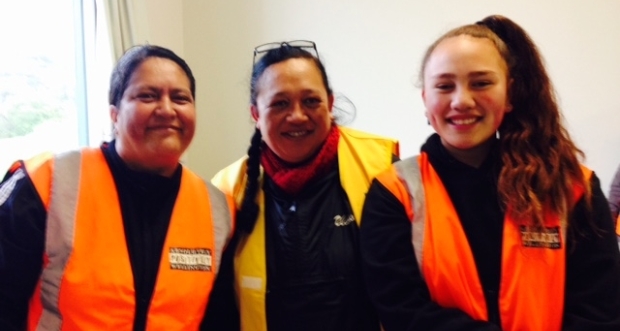 Mahalia Keelan-Church, Leighsah and her daughter Tiana Edmonds.
We do it for every marae  (in the collective)  it's about evaluating what was good and what was not so good because we all learn form each other. Last time we had tents out there and it blew a gale…..so we are a bit crammed in here, but that's okay, we have catering here with Joe Mcloed, it is what it is……for next year we have to get a supply of food, we've done the risk analysis,  we need to be able to cater for three days without any help from anyone else. - Nā Bill Rawiri
When Marae Nga Hau e Wha o Papararangi Marae in Wellington took in 42 evacuees following the 2011 Christchurch earthquakes, they soon realised the marae was not well equipped to cope. So began their work to become earthquake-ready. Nine marae in the Wellington region have combined their resources and knowledge base to form a marae Collective. For the past three years they have worked alongside local emergency organisations and the Hutt Valley Council to put their systems and community infrastructure into place.
Last weekend they ran an emergency earthquake evacuation test, Justine Murray provides a perspective.