Sunday, 22 June 2014

'Tākina ra ko nga hui o Matariki Puanga Tautoru. Ka ngaro atutahi ma e karewa te tini o te wheturiki'
'Matariki is the cluster of stars, Puanga is Orion, Tautoru is Orions belt, Atutahi is Conopus, Karewa is the brightest star in the sky.'
This week's whakatāuki is explained by Jack Thatcher nō Ngāi te Rangi, Ngāti Pōrou.
In Te Ahi Kaa this week, part two of the six part series Whaikōrero features. Wiremu Parker hosts a panel discussion recorded in 1981 with panellists Tamati Kruger and Ruka Broughton. The men analyse segments of the Whaikorero (formal speech) delivered by Dr Pei te Hurinui Jones (1898 – 1976) at the Poroporaki (farewell) to the fifth Māori king, Kingi Koroki.  The discussion features archival material from the Centre for Māori studies and Research at the University of Waikato.
Māori Chef Joe McLeod' only needs to step out into his backyard to find a wide variety of rongoa māori (medicinal native plants) and trees. He talks to Justine Murray about their different names and uses in the kitchen.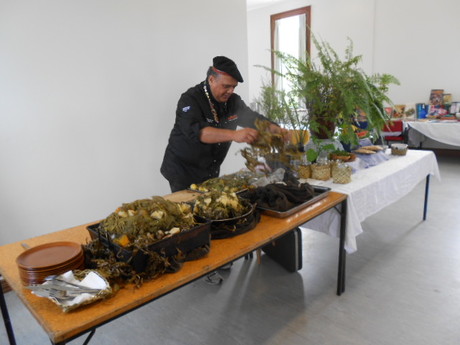 Chef Joe Mcloed in his element at Nga Hau e Wha o Papararangi Marae.

From a Matariki celebration at Waiwhetu marae, Lower Hutt, Justine asks a few whanau gathered what the relevance of Matariki is to them.
Waiata featured:   'Sunshine' performed by Kirsten Te Rito and Rio Hemopo from the EP Common Ground (2014), 'Matariki' performed by The Bill Sevisi Team from the album I'm Māori.