Sunday, 14 July 2013

Ehara taku toa i te toa takitahi, engari he toa takitini
My strength is not from me alone, but from many
This week's whakatāuki is explained by Tania Waikato nō Ngati Awa
When Tania Waikato decided to give an interview to her local newspaper about her traditional remedy business Kawacure she didn't realise the story would grow legs. Social media, word of mouth and the email orders came in fast. She recalls how she went from three sales a day to 100 all at once.  Tania and her friend and fellow Rongoa Practioner Vanessa Skipper chat to Justine Murray about their fledgling Te Teko business and more importantly the tikanga associated with Rongoa.


Tania Waikato at her home based business Kawacure in Te Teko and with Vanessa Skipper at Te Waiu o
Pukemaire (Braemar Springs)
Ukes on Fire are a group of Ukulele enthusiasts. Their passion has taken them on tours across Aotearoa, but they still love performing in their hometown of Thames. Justine Murray sits in on a teaching lesson and jam session with founding member Stewart Taipari.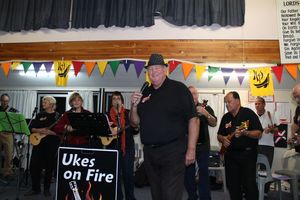 Jam session with Ukes on Fire from Thames.
In an archival segment Nga Tāonga korero from 1998, Libby Hakaraia interviewed Maureen Waaka (1943 – 2013) about problem gambling and her stance against more pokie machines in Rotorua.
Waiata featured:   'Tini Whetu' performed by Whirimako Black from the album Whirimako Black Live at the Holy Trinity Cathedral (2010) ;   'Better than change' performed by Dallas Tamaira from the EP Better than change (2004); 'E Kui Kumara' performed by Whirimako Black from the album Shrouded in the Mist: Hinepukohurangi (2002)