Sunday, 10 October 2010

6:00 PM.Maraea Rakuraku joins students at a netball orientation day in Palmerston North seeking entry into Tu Toa Maori Sports Academy. Audio
10 Whiringa-ā-nuku (October) 2010
"Tumutumu Parea, Rakau Parea, whanui te ara ki a Tane"
"Ward off post and weapons so that the broadway to Tane is opened up"
This week's whakatauki is explained by Eva Haenga (nō Ngāti Pōrou).
In 2009, the eighteen-year-old Stan Walker entered the reality TV show Australian Idol, and won convincingly. Since then, his professional musical career has taken off, with trips back and forth across the Tasman, autograph signings at record stores, and the release of a second studio album From the Inside Out. Justine Murray catches up with Stan discussing his career to date, what it's like being part of the pop music machine, and how he nurtures his Māori identity.
During the time of the Commonwealth Games in India, Te Ahi Kaa visits a sports academy in Palmerston North which seeks to nurture elite athletes of the future such as Michael Campbell, George Nepia and Temepara George. Tū ToaSports Academy operates under kaupapa Māori, and demands a lot from its students, and their whānau. Aimed at fostering a culture of success founded on Māori values and an expectation of high attainment, the educational programme which Tū Toa (meaning "stand strong") offers focuses on top-level sport. Maraea Rakuraku visits the academy on one of its busiest days of the year - the inaugural netball orientation which is part school tour and part training camp. Among her interviewees are husband and wife Nathan Durie and Yvette McCausland Durie, parents, student and prospective students.
Puke Ariki Museum in New Plymouth explores a lot of local history in its exhibitions, and the Māori presence in these shows is often very significant. Justine Murray visits the complex to look at a show about the legacy of the Taranaki War which raged through the region for 21 years from 1860. Glen Skipper, the Poututaki Māori at the museum, guides her through the exhibition which looks at this tumultuous period in New Zealand history, and how its effects can be traced through the twentieth century. Te Ahi Kā Roa, Te Ahi Kātoro Taranaki War 1860-2010 has closed, but has an online presence.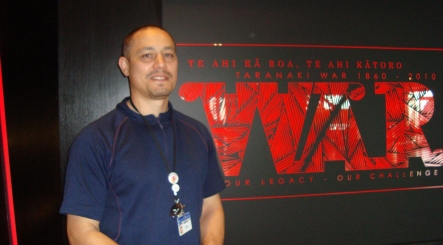 Glen Skipper.