Sunday, 19 September 2010

8:06 AM.Taranaki Iwi are ensuring Te Kopae Piripono students don't feel compromised speaking te reo Maori in a mainstream environment. Audio
19 September 2010
"He aroha wharērē he potiki piri poho."
"A mothers love, a breast clinging child"
This week's whakatauki was explained by Maisey Rika nō Ngai Tūhoe, Te Arawa, Ngati Awa.
Some of the country's top Māori performers came together for the 2010 Waiata Māori Music Awards hosted by Ngāti Kahungunu in Hastings on 10 September. For musician Maisey Rika it was a bit like coming full circle, having attended St Josephs Māori Girls College in nearby Napier where she recorded an album of traditional waiata Māori, E Hine that went on to national acclaim. Now some 17 years later her singing and songwriting is gaining a similar response. Maraea Rakuraku talks with the Ngāti Awa, Tūhoe, Te Arawa musician about what inspires her and future projects.
In the series Nga Marae o te Motu, Justine Murray pays a visit to Te Awhina Marae in Motueka. Master carver John Mutu explains some of the poupou inside the wharenui Turangapeke; Rima Piggott gives an outline of when the marae was established; and Aunty Larry Bailey and Mere Kingi recall the early days of making the tukutuku panels, running te reo Māori wananga and the abundance of kai in the area.
Left: Wharenui Turangapeke. Right: Mere Kingi, Rima Piggott and Aunty Larry Bailey.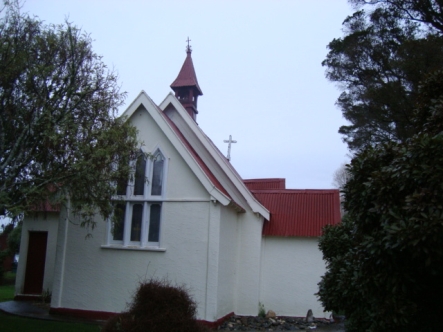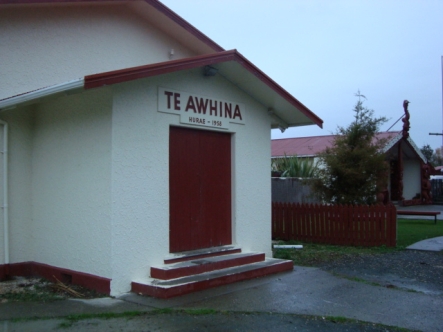 Left: Te Awhina Marae. Right: Te Whare Karakia.
Take one Kaupapa Māori early childcare centre - Te Kopae Piripono - add a Safety in the Water programme led by Sport Taranaki and you get He Toro Kahawai - swimming lessons taught in te reo Māori. Justine Murray talks to Sport Taranaki coordinator Leanne Matuku and Kaimahi at Te Kopae Piripono, Aroaro Tamati, Hinerangi Korowha about the soon to be launched initiative.
Waiata featured:
Nia as performed by Maisey Rika from the album Tohu (2009)
Tuhia Ha as performed by Wai from the album Ora (2010)