Sunday, 19 July 2009

6:06 PM.Knowledge of his tuhoetanga has helped Te Taurewa Victor Biddle deal with homopohia. Audio
19 Hōngongoi (July) 2009
Te Ruki Kawiti (1770 - 1854) was a well known Rangatira from Northland. In 1845, Kawiti and other Northland Māori were successful in their campaign of fending off British troops at Ruapekapeka pa. Maraea Rakuraku talks to Te Ruki's great-great-granddaughter, artist Evelyn Kawiti, about how she infuses her art with such stories.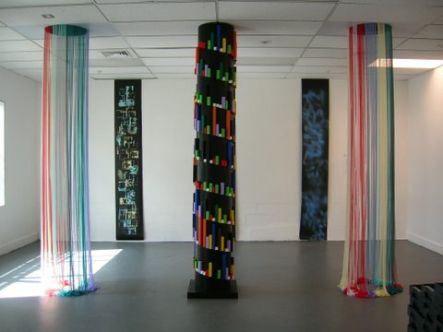 Evelyn Kawiti's exhibition, Lost Voices, at Northart gallery. See more images in the Te Ahi Kaa Gallery.
Coded using letters and numbers on my mobile, this is the famous speech Te Ruki Kawiti made at his pa in Glenbervie in 1846. The whole speech is
displayed on the pou using the rakau or cuisenanire rods:
"E te whanau, i te pakanga ahau ki te Atua i te po, heoi kihai ahau i mate. Na reira, takahia te riri ki raro i 0 koutou waewae.
Kia u ki te Whakapono, he poai pakeha koutou i muri nei.
Waiho kia kakati te namu i te wharangi o te pukapuka., hei konei ka tahuri atu ai. Kei takahia e koutou, nga papa pounamu a o koutou tupuna e takoto nei. Titiro atu ki nga taumata o te moana".
Translated:
"My illustrious warriors and people, I had war with God during the night, but I survived. Therefore I call upon you to suppress war under foot. Hold fast to the Christian faith, for the day will come when you will become labourers under your Pakeha friends. Await, therefore, until the sandfly nips the pages of the Book, (the Treaty).Then, and only then, shall you arise and oppose. Do not desecrate the Papa Pounamu (the Articles of the Treaty endorsed by your forebears). Look beyond the sea, to the transfiguration of the future."
The other pou are made of lace. The one on the left spells out the first line of New Zealand's national anthem in Te Reo "E Ihowa Atua" using the same colour code as that on Kawiti. The lace on the right of Kawiti spells out "E rua tatou" Governor Hobson uttered the famous lines "we are one people" at Waitangi. I say we are two people. Tangata whenua and others. The drawings on the wall are whakairo of our tamariki and the pou act as protectors. Lace is warm, embracing and enveloping. These pou represent the female role in leadership and they also support the male leader (Kawiti pou). Evelyn Kawiti
Computer whiz kid Andre Haronga, aka Dray Haronga (Ngāti Kahungunu), has had 3 million the hits on his YouTube series Draytown, a video-comic series based on the popular YouTube video Maple Kombat. Andre talks to Justine Murray about the series and his new job in Auckland with an information technology firm.
Te Taurewa (Victor) Biddle (pictured below) attended this year's Queer Youth conference held at Taputeranga Marae in Wellington this year. He talks to Justine Murray about his experiences of homophobia as a gay Māori man and how he has overcome those hurdles.
Waiata featured:
With Te Wiki o te Reo Maori (Maori Language Week) around the corner we round off this week with the track He Wao Noa by the Whanganui-based group Te Reo o nga Manu (voices of the birds).The group is made up of Parata Reweti, Rihi Punga and Tawira Allan.