Sunday, 15 March 2009

7:06 PM.Takataapui Stanley Waipouri was the victim of a vicious hate crime in 2006. How is it for gay Maori three years later? Audio
15 Poutu-te-rangi (March) 2009
Inā kei te mohio koe ko wai koe, I anga mai koe i hea, kei te mohio koe
Kei te anga atu ki hea
If you know who you are and where you are from, then you will know where you are going
Explanation by Levi Bristowe nō Ngā Pūhi me Te Arawa
This year, Tapu Te Ranga Marae hosted the National Kaha Queer Youth Hui where Justine Murray met with takatāpui Māori negotiating the balance between cultural identity and sexual preference. Takatāpui television presenter, Levi Bristowe (below left) describes his experiences growing up in a small rural Northland community where while there was little room for him to express his sexuality he was nurtured in his taha Māori. Lucas Jones nō Ngā Pūhi, Muriwhenua, Te Hiku o te Ika combines his passion for Te Reo Māori and the sexual health of Māori, having just completed hauora studies and as a staff member at the Maori Language Commission - Te Taura whiri i te reo Māori.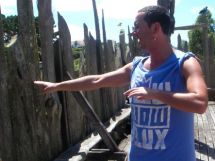 Left: Levi Bristowe:Co-host of Maori TV show Takaatāpui, Levi Bristowe
Right: Lucas Jones (No Muriwhenua, Ngā Pūhi) demonstrates actions to waiata Māori Purea Nei.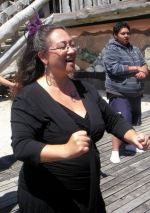 Conference organiser, Elizabeth Kerekere nō Rongowhakaata, Aitanga a Mahaki, Ngai Tāmanuhiri, discusses how her role with the OUT THERE! * Queer Youth Development Project, an initiative between Rainbow Youth and the New Zealand AIDS Foundation, provides a holistic approach to the sexual and gender diversity of young people.
Out there! project leader Elizabeth Kerekere participates in the waiata practise at the National Queer Youth Hui 2009.
Maraea Rakuraku, literally has a 'whale of a time' when she heads to the crayfish capital of the world, Kaikoura and samples, no, not koura but Whale watching. From the tour bus to the aftermath of sighting whales, Maraea gives an eye witness account that features a cast of hundreds.
In 2006 newspaper headlines screamed with the indignities suffered by takatāpui Stanley Waipouri (1967- 2006) when he was murdered in his Palmerston North home. With homophobia rife and the sensationalist approach by the media, the Waipouri whānau despaired whether the perpetrators would be brought to justice. All of this was captured by television producer Jude Anaru, in a 2007 Takatāpui episode focusing on hate crimes directed against takatāpui and the death of Stanley Waipouri. The episode then went on to receive that year's Media Peace Award. An interview recorded at that time between Anaru and broadcaster Willie Jackson, discuss hate crimes, Stanley Waipouri and the controversial gay panic defence.
Waiata featured include:
I Te Wa by Mika from Iwi Hit Disc 7
Purea Nei and Nga Iwi e as sung by Takataapui attendees at the National Kaha Queer Youth Hui at Tapu Te Ranga Marae, Wellington 24 January 2009 (composed by Hirini Melbourne).
Takataapui Noa Ahau as sung by Takataapui attendees at the National Kaha Queer Youth Hui at Tapu Te Ranga Marae, Wellington 24 January 2009 (composed by Kevin Haunui).
Boy from Ipanema sung by Mika from the Album Kapai Kabaret