Sunday, 3 August 2008

6:06 PM.Just how "objective" is the media when reporting matters affecting Maori? Audio
03 Hereturikōkā (August) 2008
"Ahakoa he iti He Māpihi Pounamu."
Although we are small we are made of greenstone.
Explanation by Amster Reedy
As we countdown to the Olympic games that will launch on the 8th of August 2008 the Maori cultural advisor to the team, Amster Reedy no Te Aitanga-a-Mate, Putanga, Ngati Uepohatu, Ngati Porou speaks with Justine Murray.
Just how objective is the media? Are Maori events or news presented fairly? Sue Abel wrote Shaping the news: Waitangi day on Television (1997) in response to the negative portrayal of Waitangi Day by mainstream media especially, as she was often present as a journalist and did not witness what was then later broadcast on our television screens. Today she lectures Media Studies in a course addressing what she sees are these inconsistencies. Maraea Rakuraku asks Abel whether anything has changed since her book and how the media shaped up within the first 24 hours of reporting the police raids of October 15, 2007.
Reinstating the proper spelling of Wanganui to Whanganui is a matter of principle for Ken Mair. He's lodged a formal application with the National Geographic Board, following what he believes was a farcical use of the democratic process by the District Council.While the inclusion of the "H" will not affect the pronunciation Mair believes its exclusion undermines the integrity of the dialect of local iwi rendering the name meaningless. He explains the iwi position to Justine Murray.
Any Kapa Haka performer will tell you front row, centre stage is a much coveted spot and for those in the Patea Maori Club (PMC) it's a position that has been held by Hui Kahu since Poi E rocked the nation in 1984. Though the faces may have a few more wrinkles and the body is not as agile that didn't prevent the PMC from pulling out their hits, at the Kaumatua Kapa Haka held in June at Te Papa.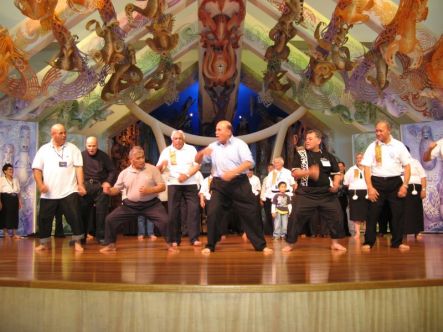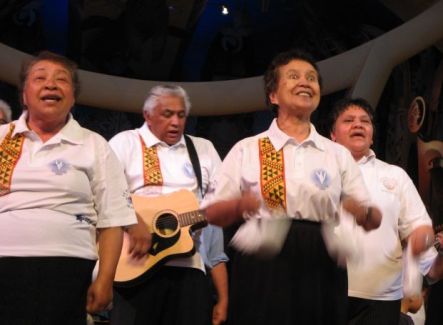 Buster Walden relates the significance of Taranaki waiata I Rangona atu nga pu, The Coming of the Musket to Maraea Rakuraku and Hui Kahu remembers the successful writing collaboration between Dalvanius Prime and Ngoingoi Pewhairangi.
The Coming of the Musket
I rangona atu nga pu - Guns came down
Kei Te Taniwha - To Te Taniwha
Kei a Huri-whenua - To Huri-whenua
I tangi ki taku hawenga i raro-e - Calling out to the weak ones
Keua e ana pu - Driven here by the guns
E! Ka whano Mangu [ unclear: ] o - Ha! Come to me, black death
Kei oku tapa, Papatoa - Come to my thighs, conquering earth
He pu notinoti nga tapa! - They shiver at his breath
He kuru tumata tai haruru - He beats and burns and roars
E! Ka ngenengene! - Ha! He is done.
He mata aha, he koi pu - What a weapon of love
Ka tu ki runga ha - A sharp bullet from above
E! Ka roa ko te tapa - Ha! I am caught in his cold fire
Ka moho ki te whenua - There is no end to his desire
E! Ka ngenengene! - Ha! He is done!
I Papakupu, an online dictionary with a difference was launched during Te Wiki o Te Reo Māori. A Māori Language Commission initiative, I Papakupu provides pure definitions of kupu Māori. Aware of its appeal to computer savvy rangatahi the Minister of Māori Affairs Parekura Horomia discuses the transgenerational benefits with Justine Murray.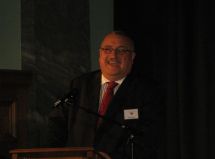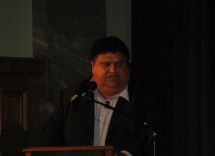 Parekura Horomia (left) and Maori Language Commissioner Erima Henare (right), at the launch of I Papakupu.