Sunday, 15 June 2008

6:06 PM.Indigenous theatre is about to be celebrated in a tour of Aotearoa. Audio
15 Pipiri (June) 2008
"Ko Matariki te tohu o te tau."
Matariki heralding the new year.
Erana Hemmingsen no Ngati Porou me Ngai Tuhoe
Buck Shelford's controversial dumping as an All Black in 1990 led to a passionate campaign for re-instatement. Eighteen years later his fans are still loyal and his status as an All Black archetype hasn't diminished. In Te Ahi Kaa this week Shelford chats with Charlie Leaf about that time and his life since, focusing on his recent fight against cancer.
Singing along to her mothers 45's first hooked Ariana Tikao, no Kai Tahu, into music. Indeed music has influenced her philosophy as well as her musical leanings aided by her commitment to Kaupapa Maori. Influenced by Mahinarangi Tocker, the Dance Exponents and Hirini Melbourne, Ariana talks music with Maraea.
Honouring Theatre and Honouring word both celebrate the indigenous voice. Amanda Hereaka, Tuwharetoa, festival coordinator of Honouring Theatre chats about their imminent nationwide tour. The Maori contribution to Honouring Theatre, He Reo Aroha premiered in Papaioea, Palmerston North a week ago. Maraea was there taking in some audience feedback after the performance.
What's inflatable, popular and based in Wellington? Clue, it's not a politician. During Matariki, attendance doubles at Te Papa Tongarewa as schools swarm to the museum, participating in whakaari and waiata aimed at relaying the significance of Matariki as an indigenous celebration, to a younger generation. Staff members, Erana Hemmingsen, no Ngati Porou me Ngai Tuhoe and Julie Noanoa, no Te Aitanga a Hauiti, introduce Star Lab to students from the Maori unit at Newtown School, Wellington.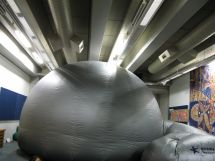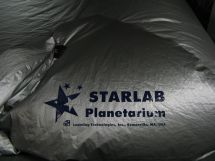 The Star Lab at Te Papa.