Sunday Morning for Sunday 3 November 2013
8:12 Insight Fonterra Botulism Scare
New Zealand businesses are still picking up the pieces from the Fonterra botulism scare. They say they are trying to repair their reputations after being caught in the fallout of another company's mistake. Many say the false alarm is a lucky escape and wake up a call. Rowan Quinn investigates how the crisis was handled and what needs to be done to repair the damage.
Produced by Gael Woods.
8:40 Marti Friedlander – Portrait of a Life
One of New Zealand's best-known photographers, Marti Friedlander – who is now in her 80's – has published her autobiography. Entertaining and engaging, Marti tells Chris about growing up in a London orphanage, being Jewish, falling in love, and taking photos.
Self Portrait, by Marti Friedlander with Hugo Manson, is published by Auckland University Press.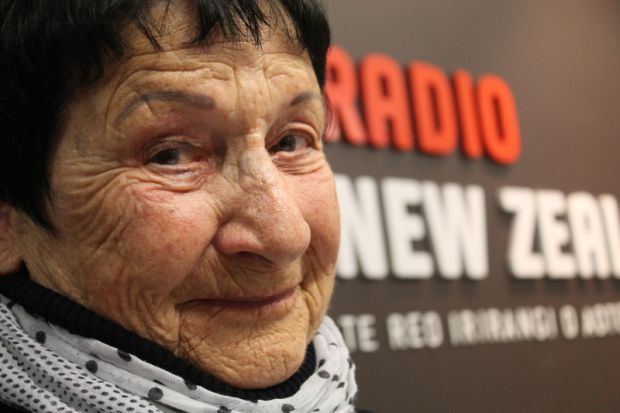 Marti Friedlander. Photograph by Dru Faulkner.
9:06 Mediawatch
Mediawatch looks at RNZ's new project for young people – The Wireless.  It's online and on demand – but it's not on the radio. Will it bring young people to RNZ? And whatever happened to the plan for a youth radio network?  Also: How a young sports star annoyed reporters by spreading her big news without them; and there was more to the story of an injured soldier than first met the eye.
Produced and presented by Colin Peacock and Jeremy Rose.
9:40 Tim Jarvis – In Shackleton's Footsteps
Tim Jarvis is a British-Australian explorer who last year re-created Ernest Shackleton's epic trip across 1300km of southern ocean in a small leaky boat, followed by a long trek to reach a rescue station. It's a story of bad food, huge waves, trench foot, seasickness – and big adventure.
Shackleton's Epic, by Tim Jarvis, is published by HarperCollins.
10:06 Ideas The Young and the Political
This week on Ideas we speak to three of the youngest successful candidates in last month's local body elections: Twenty-year-old Jack McDonald who is the grandson of poets James K Baxter and Jacqui Sturm, and the new chair of the Paekakariki Community Board; Rotorua District Councillor Tania Tapsell, 21, who is the great-niece of former Speaker of the House, Peter Tapsell; and the country's youngest local body politician, 18-year-old Latham Martin.
Produced by Jeremy Rose.
10:55 Today's Track
'So Long Honeybee, Goodbye', by Pokey LaFarge & The South City Three, from the album, Middle of Everywhere. Pokey LaFarge is playing Womad Taranaki in 2014.
11:05 Down the List
The shock news that the US National Security Agency bugged Angela Merkel's cell phone has had reverberations all around the world. Colonel Sanders and General Mayhem have been monitoring NZ and found it to be a lot less interesting than Berlusconi and his bunga bunga parties.
Down the List is written by Dave Armstrong and produced by Adam Macaulay and Duncan Smith from the RNZ Drama Department.
11:12 Oliver Richmond – Peace in the 21st Century
Oliver Richmond discusses attempts in the last century to achieve peace – refining the state, building an international architecture (UN system), supporting democracy, civil society, human rights, and capitalism – and asks if these approaches are still adequate in the 21st century.  
Oliver Richmond is the William Evans Fellow at the National Centre for Peace and Conflict Studies, University of Otago.
11:40 Wayne Brittenden's Counterpoint
With the release this week of a children's book extolling the virtues of the real world over social networks – and written by Randi Zuckerberg, the sister of Facebook's founder –  Wayne takes a look at friendship, Facebook style. Chris follows up with Canadian writer Stephen Marche.