Sunday Morning for Sunday 17 October 2010
Sunday for 17 October 2010
8:12 Insight: The Future of 1080
Today's Insight documentary looks at whether alternatives for 1080 are just around the corner after years of protests over the controversial use of the poison.
Written and presented by Matthew Peddie
Produced by Sue Ingram

8:40 Ann Neven - Talking to a Saint
Australia gets its first saint today when Mary MacKillop is canonised. Mary co-founded the order of the Sisters of St Joseph of the Sacred Heart, along with the priest Julian Tenison Woods, in 1866 and devoted herself to the education of underprivileged children in both Australia and New Zealand. Chris talks to Sister Ann Neven who's in Rome with thousands of pilgrims to witness the ceremony.
9:06 Mediawatch
Mediawatch looks at the battle for hearts and minds being fought in the media between overseas investors who want to buy New Zealand farms and people here who say they want to save them. Will the 'Paul Henry affair' be just a PR wobble for TVNZ, or something more significant? And why was an innocent elderly woman on the other side of the world subjected to tacky tabloid treatment in the media here?
Produced and presented by Colin Peacock and Jeremy Rose.
9:40 AK Min - Hope for Burma/Myanmar
Aung Khaing (or AK) Min (below) is an activist and former political prisoner and is in New Zealand to tell his story of struggle against the oppressive military regime in Myanmar, formerly known as Burma. He talks to Chris about hanging on to hope, when hope is all you have. He is in New Zealand as a guest of Amnesty International.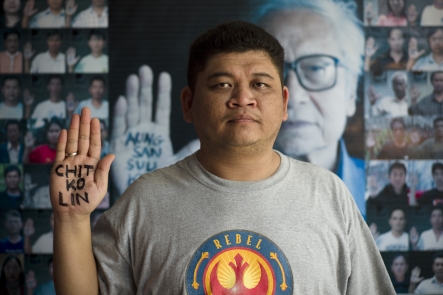 10:06 John Anderson - The Contiki Journey
Kiwi John Anderson founded of one of the biggest tour companies in the world - Contiki. Then the sharemarket crashed in 1987 and a couple of years later, he was penniless and homeless. He tells Chris about the company he formed in the '60's on the back of a scribbled note and a lot of nerve, its demise, and his new directions.
John Anderson's book 'Only Two Seats Left' is published by Messenger Publishing
10.40 Notes from the South with Dougal Stevenson
Dougal struggles to find his newspaper, while danger lurks in the harbour below.
10:45 Hidden Treasures
This week on Hidden Treasures, Trevor Reekie previews a track from the new album by Wellington blues man Darren Watson, and pays tribute to the wonderful Harry Beckett who passed away recently.
Produced by Trevor Reekie
11.05 Ideas: Unionist Matt McCarten on the individuals, writers and thinkers who have influenced his ideas.
Matt McCarten is the secretary and founder of the Unite Union - one of the few unions anywhere in the world to have successfully unionised McDonald's restaurants. A founder of both the NewLabour and Alliance parties, Matt McCarten is regularly used as a leftwing pundit by the media. After a childhood spent in orphanages Matt McCarten's union activism began at the age of 17 in a spontaneous occupation of a hotel he was working at in Queenstown. Ideas producer Jeremy Rose talks to Matt McCarten about some of the individuals, writers and thinkers who have influenced his own ideas, a list which includes: Spartacus, psychoanalyst Victor Frankl, Labour Party founder Harry Holland, unionist Syd Jackson, current Labour MP Rick Barker, writer and activist Bruce Jesson, and Noam Chomsky.
Produced and presented by Jeremy Rose
11.55 Feedback
What you, the listeners, say on the ideas and issues that have appeared in the programme.