Sunday Morning for Sunday 19 September 2010
Sunday for 19 September 2010
8:12 Insight: The Cost of the Commonwealth Games
Insight visits the Indian capital, Delhi, where frantic preparations are continuing for next month's Commonwealth Games. The city now boasts its first high-tech Green stadium, but should the Government have spent so much money on a sporting event?
Written and presented by the BBC's Rupa Jha
8:40 Sandra Grey and Ana Gilling - Women and MMP
Marking women's suffrage day, Sandra Grey and Ana Gilling are releasing a report on MMP and women's political representation in New Zealand. Theylook back at the suffrage movement, and talk to Chris about MMP's role in improving the number of female MPs - and what that's meant in the lives of women.
Ana Gilling (below) is a PhD candidate at Queens University, Belfast researching New Zealand women in politics and concepts of political power. She is currently lecturing at Victoria University of Wellington.
Dr Sandra Grey is a senior lecturer at Victoria University and is a spokesperson for Campaign for MMP.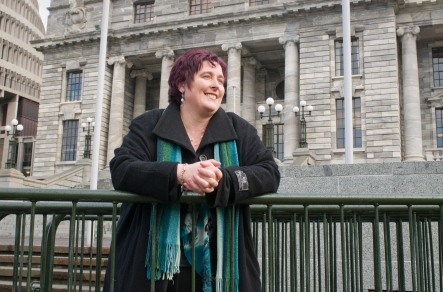 9:06 Mediawatch
Mediawatch this weekend talks to former RNZ presenter Sean Plunket about Morning Report, radio and the future of public broadcasting as he takes up several roles elswhere in the media. Mediawatch also looks at who's been playing politics in the wake of the quake in Canterbury - and how a TV programme deceived a defence official in order to reveal his deceptions.
Produced and presented by Colin Peacock and Jeremy Rose.
9:40 Peter Bidwell - Rowing for Gold
Sports journalist Peter Bidwell has a lifelong interest in rowing - a sport he thinks has been neglected in New Zealand, despite this country's success in world championships and the Olympics. He talks to Chris about the personalities and the passion of our rowers, and looks ahead to the World Rowing Championships starting next month at Lake Karapiro.
Peter Bidwell's book, 'Reflections of Gold: A Celebration of New Zealand Rowing', is published by HarperCollins.

10:06 Stevan Eldred-Grigg - A Wrong War
Historian and writer Stevan Eldred-Grigg (right) takes a fresh look at New Zealand's role in the First World War - a conflict he describes as disastrous, avoidable and unnecessary. He tells Chris that the cost was way too high - and we are still feeling its effects, both socially and culturally.
Stevan Eldred-Grigg's book 'The Great Wrong War' is published by Random House.
Image by Hu Xiaomang.

10:45 Hidden Treasures
This week on Hidden Treasures our host Trevor Reekie showcases two brand new releases from Los Lobos and Ray LaMontagne, and digs up the sheer exuberance of some folk-rock from Okinawa.
Produced by Trevor Reekie
11.05 Ideas: Electric Cars
Later this month Wellingtonians are set to get a glimpse of the motoring future when the city council launches a trial of fully electric cars. The trial will see five state-of-the-art Mitsubishi I MiEV plug-ins whizzing around the city streets. But the Mitsubishis won't be the first fully electric cars in New Zealand. There's a growing band of enthusiasts converting existing cars to run off electricity. Ideas speaks to Whangarei man Ulrich Schmid who has converted a Citroen Dyane to run off electricity he generates from solar power; Waikato University senior lecturer in engineering Mike Duke, and the Wellington City Council's director of strategy Teena Pennington.
Presented by Chris Laidlaw
Produced by Jeremy Rose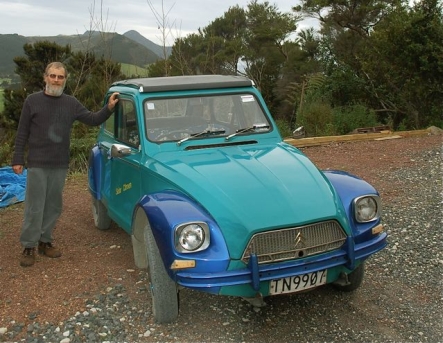 Ulrich Schmid with the Citroen Dyane he has converted to run off electricity he generates from solar power.
11.55 Feedback
What you, the listeners, say on the ideas and issues that have appeared in the programme.