Sunday Morning for Sunday 4 October 2009
Sunday for 4 October 2009
8:12 Insight: Auckland Unleashed
Insight asks whether moving to a Supercity might finally unleash Auckland's economic potential. The city is the commercial powerhouse of New Zealand's economy but for decades its economic growth has been sluggish. Will the local body restructuring make a difference?
Written and presented by Todd Niall
Produced by Sue Ingram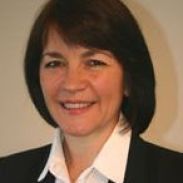 8:40 Feature interview: Poverty and Ethics
Lesley-Anne Knight (right) is Secretary General of Caritas Internationalis, a confederation of 164 Catholic aid, development and social justice agencies. She's been in New Zealand recently and spoke to Chris Laidlaw about the global crises of climate change and the financial meltdown - the disproportionate impact these are having on the poor, and the need for wealthy nations to give an ethical response.
Caritas Aotearoa New Zealand has pledged $25,000 towards relief efforts in response to the earthquake and tsunami in the central Pacific. To make a donation, phone 0800 22 10 22, or donate online at www.caritas.org.nz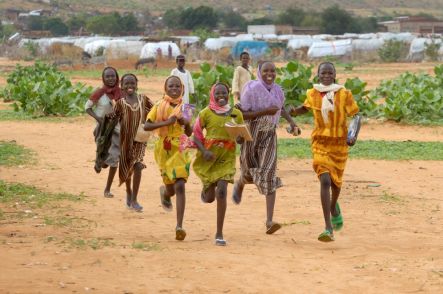 Girls running to school in Darfur where Caritas runs education programmes. Photo: Paul Jeffrey/ACT-Caritas.
9:06 Mediawatch
Mediawatch this week looks at the reporting of Samoa's tsunami so far, and the mixed messages in our media about the danger of a big wave here.
Mediawatch also hears how journalists covering climate change sometimes struggle to convince their own bosses it's a good story - and there's an interview with entertainer Mike King. Once he made a living trying to be funny on TV - but now he's on the radio, trying to get people talking about depression, addiction and mental illness. How come?
Produced and presented by Colin Peacock and Jeremy Rose.
9:40 Sunday Outlook: Gone Fishing
Fishing season opened this week and anglers around the country have been praying for some fine weather and fishable rivers. Doug Stevens has been fishing for 50 years so he knows the best places to go - as well as the economic and environmental pressures that are taking their toll on our waterways.
10:06 Sunday People: Dame Anne Salmond
Dame Anne Salmond (right), a Distinguished Professor at the University of Auckland, has just published 'Aphrodite's Island', a big bold account of the European discovery of Tahiti. She drew on Tahitian oral histories, European manuscripts and artworks and collections of Tahitian artifacts to bring together this account of European contact with the island that fascinated many in the West.
'Aphrodite's Island: The European Discovery of Tahiti' is published by Penguin.
10:45 Hidden Treasures
Each week Trevor Reekie takes you on a trip that seeks out musical gems from niche markets around the globe, the latest re-releases and interesting sounds from the shallow end of the bit stream. This week Trevor revisits a couple of classic cover versions, including an American composition that has written itself into Kiwi music history, and a track that's considered one of the most-played songs of the 20th century.
Produced by Trevor Reekie
11.05 Ideas: Land Reform in Tonga
Tonga's land tenure system is unique in the Pacific and probably the world. In 1862 Tonga's first king, George Tupou I, abolished a system of semi-serfdom and declared all land to be the property of the Crown. Thirty-three nobles were granted estates and commoner males were guaranteed a garden and town plot. It's a system that remains virtually unchanged to this day. Earlier this year the recently-crowned King George Tupou V announced the establishment of a Royal Land Commission which will spend the next two years reviewing the laws surrounding land tenure. In the second of a three-part series on Tonga, Ideas hears that some people fear the changes will see Tongan land falling into the hands of foreigners for the first time in history.
Presented by Chris Laidlaw
Produced by Jeremy Rose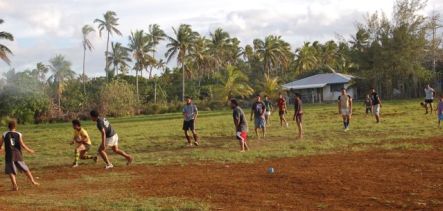 Playing football on the island of Tonga Tapu
11.55 Feedback
What you, the listeners, say on the ideas and issues that have appeared in the programme.