Alain de Botton: Religion for Atheists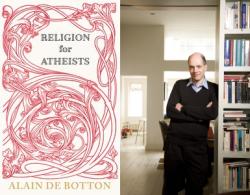 In Spiritual Outlook this week, Justin Gregory talks to author and philosopher Alain de Botton about his new book, Religion for Atheists.
While the title is pretty eye-catching, it's the subtitle, A Non-believer's Guide to the Uses of Religion, that really tells you what the purpose of the book is. De Botton argues that just because you might not believe in the supernatural, that doesn't mean religion has nothing in it for you. He says we can use religions experience and insights to build better communities, improve our relationships and our education, and to feel better about ourselves.
But while De Botton is passionate about how religion can help us, he's absolutely not interested in arguing about whether God or gods might exist.
Images courtesy of Penguin Books.
Produced by Justin Gregory For Radio New Zealand National.