Unsung Heroes
In a few small rooms packed to the ceiling with storage boxes, Robert Johnson and Lisa Young make sure the music happens for the Auckland Philharmonia Orchestra. It's their job to find that obscure… Read more Audio
"My door is always open" says the sign above Robert Johnson's door, and it's easy to see why. An incredible number of cardboard boxes block the music librarian's doorway and fill up every corner of the Auckland Philharmonia's music library. Each of them is filled to the top with music scores, thousands of them in total, and unboxed copies cover all of the surfaces in this repurposed family home. Robert couldn't close his door if he tried.
"We're in a state of transition right now" Robert tells me as he guides me through the three rooms that make up the library. I'm forced to walk sideways to follow him and as I squeeze through I repeatedly bump against boxes and furniture. A new storage space is being built downstairs and Robert can hardly wait for it to be ready. "We're bursting at the seams" he says.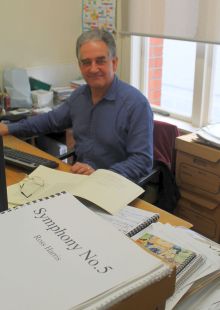 Spectrum visited Robert and deputy librarian Lisa Chung the day after the Auckland Philharmonia's concert staging of Tristan und Isolde. The Wagnerian masterpiece is a bit of a monster, requiring around a hundred musicians, each with their own score, and today's job is to get them all back from the Auckland Town Hall, return them to a pristine state and send them back to the company they hired them from. That job belongs to Lisa.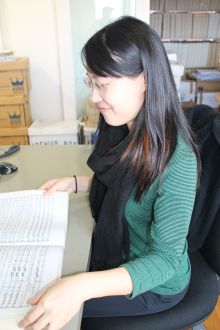 "I collect all of the music, then put them in order and every Friday after the concert I make CD recordings so I can send them to our soloist, our conductor and one for our archive."
Rewind back to the start of each season and it's the job of the two librarians to source the music required for the year to come. This is the toughest part of the job and requires an accumulated knowledge that comes only come after years of searching databases and conferring with other librarians around the world. Having found them, they then have to ensure that they contain the bowing notations decided upon by the concert master. This is written into each of the 80-plus scores by hand. Robert admits that he mostly makes Lisa do that.
The full-time music librarian community in New Zealand is very small and mostly consists of Robert at the Auckland Philharmonia and Mable Wong at the New Zealand Symphony Orchestra. While Robert and Lisa are trained musicians (like everybody in the APO), what sets them apart from the players in the orchestra is the breadth of their musical knowledge.
"I'm just constantly looking at the music of numerous composers. Performing musicians are generally concentrating on the music that they are working on at the time."
So what would happen if both Robert and Lisa went under a bus? Would their replacement be able to find their way through the databases, the network of connections, and most importantly, the maze of cardboard boxes?
"Yes they could, but undoubtedly they would have a bit of a steep learning curve!"