A Good Man
Spectrum's Deborah Nation joins Christchurch City Mission delivery truck driver Brian Smithers on a house-lot pick up, as the Aranui owners prepare their family home for demolition. Audio
Brian Smithers is indispensible to the Christchurch City Mission, and most of his hours are voluntary. On Fridays he takes the CCM delivery truck to the last job of the week. Spectrum's Deborah Nation joins him for what he likes to call a 'lucky dip' as he heads out to an Aranui address to see what is on offer.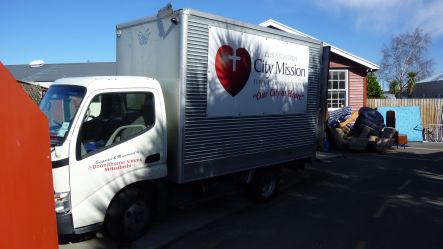 Typically, in this post-earthquake period, he finds a house-lot awaiting him. The son and daughter-in-law of a ninety year-old resident, now relocated to Nelson, are frantically clearing the house ahead of demolition. Their plans to celebrate the old lady's birthday have been put on hold as they sort precious items accumulated during a long life.
Demolition men working on neighbouring sites have already called by to check that there is no asbestos or food in the house. 'Food has to be taken to a landfill dump rather the demolition dump. There are all sorts of dumps now apparently,' says daughter-in-law Di. Brian carefully stacks the truck until there is room for just the last item, a 1960's record player and a stack of records.