The Farmhouse Stove is the Only Potbelly
The old farmhouse stove is the only potbelly you'll see at the Gentle World vegan community in Northland. The 15 or so who live in the Victoria valley near Kaitaia are slim, fit and healthy and proud… Read more Audio
The old farmhouse stove is the only potbelly you'll see at the Gentle World vegan community in Northland. The 15 or so who live in the Victoria valley near Kaitaia are slim, fit and healthy and proud of their way of living which assiduously avoids anything which harms or exploits animals.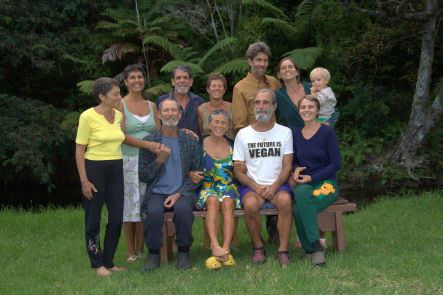 Members of the Gentle World community: Healthy, happy and proud
 Gentle World had small beginnings in the United States 41 years ago and for the last 11 years the community has 'chased the sun', spending summers at its Hawaii base and Victoria valley (aptly dubbed Shangri-La) in New Zealand. Gentle World has charitable trust status in both countries and offers a range of educational opportunities for anyone wishing to explore veganism and the community's philosophy.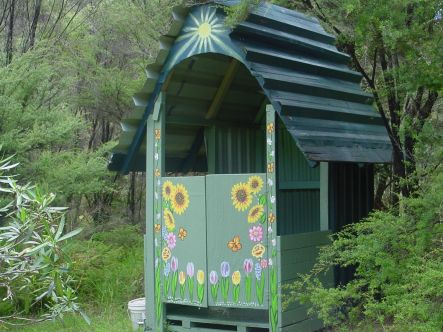 Composting toilet
'It's about far more than a diet devoid of meat and dairy products. Gentle World's core purpose is to help build a more peaceful society and a better planet, by educating people about the reasons for being vegan, the benefits of vegan living, and how to go about making such a transition.'
So says one of Gentle World's co-founders whose community name is Light. Each member adopts a name which says something positive about the individual or reflects the community's harmony with nature – Sun, Flowers, Butterfly, Sky, Magic, Golden, Summer.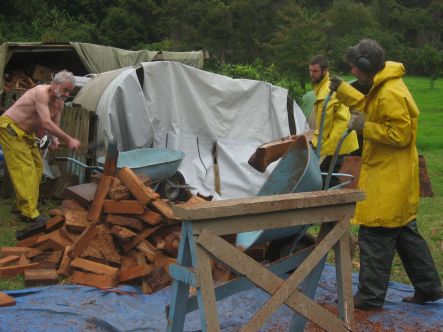 Jack (community name 'chopper') Perkins in the rain
To keep the place running, community members are multi-skilled: Sky is an artist and also an electrician; Magic tends the gardens and is an expert carpenter; Flowers is a seamstress and Golden does the community's books. They live in caravans and cabins dotted along the idyllic Victoria valley but each evening they gather for dinner in the renovated 1920s farm house. Spectrum's Jack Perkins spends several days at Gentle World.
Gentle World link:  http://gentleworld.org/