Southern Woman Fleur Sullivan
Deborah Nation meets southern woman Fleur Sullivan a restaurateur and provider of food and wine from the region.Fleur of 'Fleur's Place' at Moeraki by the sea, is now commuting daily to Oamaru to… Read more Audio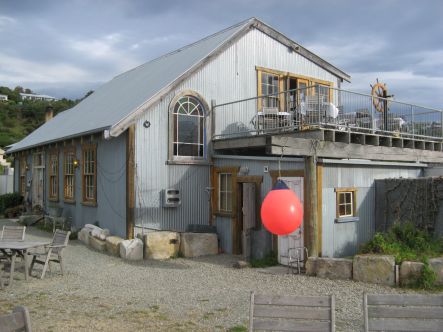 There's nothing la-de-da about Fleur Sullivan, claims one of her recent recruits. Her Moeraki seafood restaurant 'Fleur's Place' regularly overflows with customers from around the world but Fleur continues to serve at table, rule the kitchen and organize a large staff.
But now the seasoned grandmother has given in to her imagination and set about transforming a historic building in the heritage precinct of Oamaru.
Encouraged by members of the Whitestone Civic Trust, all well aware of her pulling power, Fleur has returned to the town of her childhood to turn the vast spaces of the Loan and Mercantile grain store into a carvery, bar and restaurant.
This time, instead of wowing people with seafood provided by local fishermen at Moeraki, she and her old friend French chef Gilbert Prevost, are sourcing their food from the Oamaru region.
Fleur has a history of establishing highly successful restaurants, including The Dunston Hotel and Olivers in Clyde. But she has no interest in owning a restaurant on the main drag: the more obscure and hard to find, the better.
Having battled cancer and endless by-laws, Spectrum's Deborah Nation finds that Fleur Sullivan isn't likely to sit back and stare out to sea….well, not for longer than it takes to boil a black pudding or a pot of shellfish.