Otaua on the Move
The small country community of Otaua is on the move. It's been chopped off the bottom of the new Auckland Super city and sent off to the Waikato. Locals don't seem particularly bothered either way… Read more Audio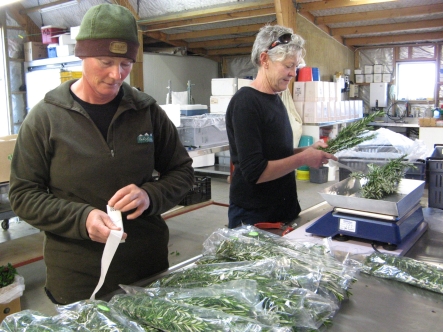 Jeanette Rea (right) , and partner Pam Maurice ( left) busy packing rosemary
The small country community of Otaua is on the move. It's been chopped off the bottom of the new Auckland Super city and sent off to the Waikato. Locals don't seem particularly bothered either way.
Otaua's a pleasant place, one hour's drive south of downtown Auckland… the local booze barn pub closed down a year or two back, and the little white church is celebrating its century. The area's part of a small slice of the former Franklin District that's been left out of the new Auckland City and it'll soon become part of the Waikato District.
Jeanette Rea grows herbs in Otaua. Like many others there she's an escapee from Auckland City.
'I certainly look to Auckland for my market, but we country folk don't have a lot in common with city folk .Same goes for the Waikato really. We're a close knit community which has already proved it can look after itself, after a big fight to stop an oil recycling plant moving in .'
David Steemson visits Jeanette Rea's herb farm and talks to other locals about the new Otaua.