A Coast Of Contrasts
Ranger Brian Thomas explores Wellington's wild south coast. Audio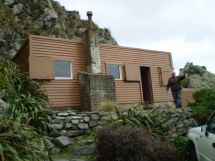 The great cliffs of Wellington's wild south coast stand defiant against some of the worst weather in the world but scattered at their foot is a colony of seals and 100-year-old baches. Also reaching a century is the annual tally of burnt-out, mostly stolen cars abandoned along the shore.
Until recently, a 70-year-old pensioner lived in a cave, complete with a brick wall to keep out the roughest seas. Nothing could tempt him into a council flat. 'It's rent free and has the best views in Wellington', he told City Council ranger Brian Thomas.
Jack Perkins explores this dramatic coastline and its inhabitants with ranger Brian Thomas.