A Feast Of Fools
Celebrating the mid winter solstice medieval style with feasting and foolery. Audio
The fool in jester's garb taunts Geoffrey Chaucer as he delivers one of his Tales, in Chaucerian English, to 300 or so feasters, actors, jugglers, minstrels and assorted medieval Lords and Ladies in full costume.
During the middle ages, the Feast Of Fools provided a once-a-year midwinter chance for servants to become masters, albeit briefly, and for ordinary folk to thumb their noses at the pomp and ceremony of the church and its officers.
Last year's Feast Of Fools raised about $15,000 for Wellington's St Mary of the Angels organ fund. This year's festivities will benefit the establishment of youth music at the church.
The cavernous hall resounds to song and psaltery; a Mystery Play pokes sly fun at adultery and the fools become bawdier as the mead and ale flow. The Pageant climaxes with 'Song of the Ass Orientis partibus' in which the ass (actually a donkey from a local breeder) leads the company,- all singing, dancing and tumbling, - in procession around the hall.
Producer: Jack Perkins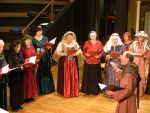 Robert Oliver conducts a medieval chorus at Feast of Fools in 2006