The most prestigious and yet misunderstood role in the orchestra must be that of the conductor. This mysterious person, with their back to the audience, hands waving in the air, casts a spell on the musicians and - on a good night - creates an intoxicating alchemy for the ears.
For The Secret Life Of Conductors, Kirsten Johnstone speaks with some of NZ's most notable maestros, Marc Taddei, Hamish McKeich, Gemma New, and Wyn Davies, about the intricacies of their jobs.

Conductor Marc Tadddei, photo courtesy of Orchestra Wellington.
On conducting
by Kirsten Johnstone
Though crude versions of conducting existed back as far as the middle ages, it's a relatively new profession. Orchestras were usually led by the concertmaster or harpsichordist, until the lead-up to the 19th Century, when orchestras grew larger, and music became grander. Composers such as Mendolssohn, Berlioz and Wagner set the standard for conducting, and a new generation followed who elevated the art to a profession on its own.
There's a historical stereotype that exists of the conductor: white, male, tyrannical. A good number of the famous conductors of the early 20th Century fell into this mould. NZ Conductor Marc Taddei says of Italian conductor Arturo Toscanini "he was a tyrant. The irony is that he was famous for taking a stand against fascists, but professionally, he was a dictator." A biography of Toscanini reports:
"His tongue was vitriolic as he subjected the musicians to withering abuse that was often downright insulting. 'Pigs,' he would shriek at the top of his voice, 'you are all pigs!'… When his temper would be spent, he would apologize for his harsh words and actions. 'You see,' he once explained, 'God tells me how the music should sound - and sometimes you come in the way.'"
A decade or so ago I played under a badly behaved conductor. I had just finished my degree in performance flute and it was my last performance for the National Youth Orchestra. I was playing principal flute, and I thought I was at the top of my game. However the fury and venom this man unleashed had me whimpering behind my music stand from the first notes of Prokofiev's 5th Symphony. I wasn't the only one to feel his wrath. Bassoonist Colin Forbes Abrams recalls the conductor telling the section:
"You sound like a bunch of recorders with mouldy socks stuck up them."
"I only need one bullet" he threatened the principal oboe player: Perhaps we were ill-prepared, an undisciplined bunch of music students, but we didn't deserve this. It was that experience that made me re-think the career path I'd chosen to follow from eight years of age. Perhaps if it weren't for that conductor, you'd find me in the NZSO instead of Radio New Zealand.
Forbes Abrams carried on, and has been playing in professional Australian orchestras for the past ten years. He had that same conductor a few years ago for a concert, and told him that he'd played that National Youth Orchestra week. The conductor asked how he'd found it, and Forbes Abrams told him "I had a really horrible time, and you made me not want to keep playing the bassoon." The maestro replied, "It wasn't a good week for me either."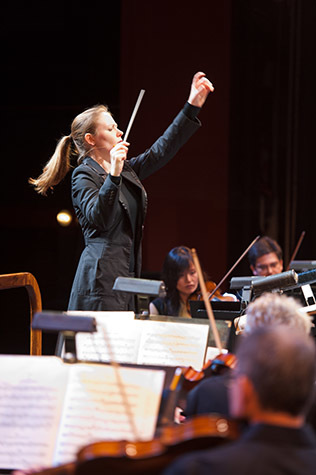 Principal flautist with the New Zealand Symphony Orchestra Bridget Douglas tells me things have changed, "That kind of behaviour - it's unacceptable. It's workplace bullying." Orchestra unions are stronger, management is more people focussed. Players have the power to let management know if a conductor is out of line,  and they won't be invited back. Douglas agrees:
"conducting is much more collaborative now. The best conductors, they really know what they want in terms of the shape and development of a piece, and they have very much their own style, but they trust the musicians to do their job too."
Gemma New is a young NZ conductor who has scored a rare apprenticeship with the New Jersey Symphony Orchestra. She says:
"The Orchestra is an amazing instrument to play... We're not just dealing with wood and strings - we're communicating. We're dealing with people."
Related Audio
Music Details
Artist: NZYO/Lutz Kohler
Song: Symphony No. 5
Composer: Prokofiev
Album: RNZ Concert Recording
Label: RNZ Concert Recording
Artist: NZSO/Hamish McKeich
Song: Hikurangi Sunrise
Composer: C Marshall
Album: Wild Music
Label: Trust
Artist: City Of Birmingham Orchestra/Simon Rattle
Song: Rite Of Spring
Composer: Stravinsky
Album:  Rite Of Spring
Label: EMI
Artist: Berlin Philharmonic/Karajan
Song: Symphony No 5, 1st mm
Composer: Beethoven
Album: Beethoven Symphonies
Label: Deutsche Grammophon
Artist: Christchurch Symphony/Sir William Southgate
Song: Romeo And Juliet/Death Of Tybalt
Composer: Prokoviev
Album: The Southgate Archive
Label: CSO
Artist: Berlin Philharmonic/Karajan
Song: Symphony No 9, 1st mvt/3rd mvt
Composer: Beethoven
Album: Beethoven Symphonies
Label: Deutsche Grammophon
Artist: Austro-Hungarian Haydn Orchestra/Adam Fischer
Song: Symphony No 82 "The Bear" Finale, vivace
Composer: J Haydn
Album: Name Symphonies
Label: Decca
Artist: NBC Symphony Orchestra/Toscanini
Song: Symphony No. 3 in F Major – Allegro Con Brio
Composer: Brahms
Album: Great Conductors - Toscanini
Label: Naxos
Artist: New York Philharmonic /Boulez
Song: The Firebird
Composer: Stravinsky
Album: The Firebird
Label:  CBS
Artist: London philharmonic/Adrian Boult
Song: the Planets – Neptune
Composer: Holst
Album: Holst – The Planets
Label: EMI Classics
Artist: Philharmonia Orchestra/Giulini
Song: Madamina, il catalogo e questo
Composer: Mozart
Album: Don Giovanni
Label: EMI