The Secret Life of the Orchestra: Woodwind
The Orchestra is a mysterious beast. Developed over hundreds of years from instruments with diverse origins; assembling massive numbers of musicians playing instruments that require many years of practise to master; capable of changes in sound and colour that range from a whisper to a jet engine...
When it all comes together, the results can be startling, but how does it all work?  And where did it all come from?
Karl Steven continues his four-part investigation of the orchestra, this time exploring the woodwind family.  From snake charmers to bagpipes, from pan pipes to concert halls, this family has been causing controversy wherever it goes…for over 35,000 years...
2:15 PM.Karl Steven continues his four-part investigation of the orchestra, this time attempting to embrace the extremes of the woodwind family and its relatives. From snake charmers to bagpipes, from easy… Read more Audio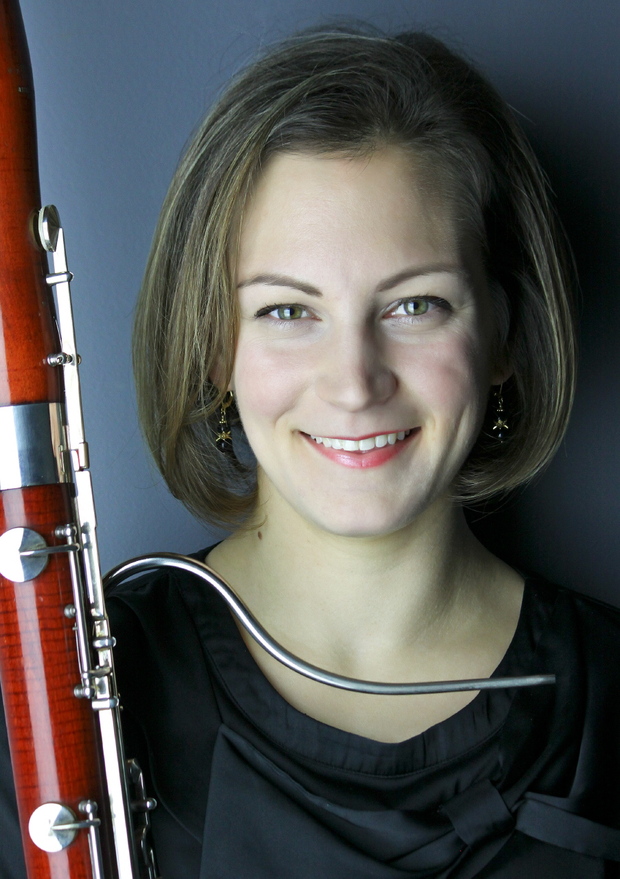 Casey Gsell and her bassoon.
Music played in this show
Artist: Vic Mizzy
Song: The Addams Family
Composer: V. Mizzy
Album: Songs For The Jogging Crowd
Label: The Vicster Records
Artist: Martin Fröst
Song: Prelude For Solo Clarinet
Composer: K. Penderecki
Album: Modern Classics: Krzysztof Penderecki
Label: X5 Music Group
Artist: Alison Teale
Song: Snake
Composer: M. Berkeley
Album: Cor! Alison Teale Plays Cor Anglais
Label: Alison Teale
Artist: Kazimierz Dawidek
Song: Bagatelles, No. 5, Limerick
Composer: G. Jacob
Album: Oboe Solo
Label: DUX
Artist: Roberto Fabbriciani
Song: Superscriptio (1981) For Solo Piccolo
Composer: B. Ferneyhough
Album: Piccolo XX
Label: Arts Music GMBH
Artist: Frank Morelli
Song: Caprice, Op. 1, No. 24 for Violin (transcribed for Bassoon)
Composer: N. Paganini
Album: Romance & Caprice: Works for Solo Bassoon & Piano
Label: Frank Morelli
Artist: Susan Nigro & Mark Lindeblad
Song: Down in the Deep Cellar (aka Down Deep Within the Cellar)
Composer: W. Glenn
Album: Little Tunes for the Big Bassoon
Label: Crystal Records Inc.
Artist: Moe Koffman
Song: Swingin' Shepherd Blues
Composer: M. Koffman
Album: 'Round Midnight
Label: Stardust Records
Artist: 4 Syrinx
Song: Pjesme Bez Rijeci, Za 2 Flaute, Alt I Bas Flautu (Obr. G. Stein) - Presto, Op. 102, Br. 3
Composer: F. Mendelssohn
Album: Decade
Label: Croatia Records
Artist: The Radio Theme Players
Song: The Whistler
Composer: W. Hatch
Album: Themes Like Old Times - 90 Of The Most Famous Original Radio Themes, Vol. 1/1-33
Label: Master Classics Records
Artist: Ted Weems and His Orchestra (feat. Elmo Tanner)
Song: Heartaches
Composer: A. Hoffman/J. Klenner
Album: Greatest Hits of a Decade: 40's Chart Toppers
Label: Producciones AR
Artist: Damian Luca
Song: Sarba Lui Damian Luca
Composer: traditional
Album: Gipsy Feelings
Label: Electrecord
Artist: Goro Yamaguchi
Song: Sokaku Reibo from Kinkoryu Shakuhachi Honyoku (Excerpt)
Composer: trad.
Album: The Sounds of Japan
Label: Victor Entertainment Inc.
Artist: Sharon Bezaly
Song: Pastorale D'ete II. Allegro Molto
Composer: J. Andreissen
Album: Bezaly: Solo Flute From A to Z, Vol. 1
Label: BIS
Artist: Moodus Drum and Fife Corps
Song: Grandfather's Clock
Composer: trad.
Album: Moodus Drum and Fife Corps
Label: Moodus Drum and Fife Corps
Artist: The Maori-Hi-Five
Song: In A Persian Market
Composer: A. Ketelby
Album: Early Rock & Roll From New Zealand Vol. 6
Label: Collector Records
Artist: Richard Nunns
Song: Putorino & Putorino Hine Raukatauri and Te Ara Ki Te Kainga
Composer: Nunns
Album: N/A -He Ara Puoro
Label: Radio New Zealand Archives
Artist: Dan Laurin & Sirena Recorder Quartet
Song: Concerto a 4 Violini Senza Basso in E Major: IV. Vivace (arr. M. Zahnhausen)
Composer: G. Telemann
Album: Boismoriter, Schickahrdt Telemann: Sirena Recorder Quartet with Dan Laurin
Label: BIS
Artist: Orgue Gavioli
Song: Valse De La Foret
Composer: trad.
Album: Le belle Epoque des Orgues Gavioli (Faiground Organs)
Label: Caravage
Artist: Ennio Morricone
Song: The Good, The Bad, & The Ugly
Composer: E. Morricone
Album: The Best Of Ennio Morricone & Hugo Montenegro
Label: BMG
Artist: Nicholas Daniel, Rachel Gough, & Julius Drake
Song: Trio for Oboe, Bassoon & Piano: I. Presto
Composer: F. Poulenc
Album: French Chamber Music For Woodwinds Volume Two: Ravel & Poulenc
Label: Cala Records
Artist: Timothy B. Rhea, Texas A and M Wind Symphony & Texas A and M Symphonic Band
Song: Turkey In The Straw (Arr. T. Rhea)
Composer: trad.
Album: Wind Band Masterworks, Vol. 1
Label: Mark Records
Artist: Albrecht Mayer
Song: Suite No. 11 in D Minor: Sarabande (Bonus Track)
Composer: G. Handel
Album: New Seasons - Händel Für Oboe und Orchester (iTunes Version)
Label: Universal Classics and Jazz
Artist: Bob Crosby
Song: Wolverine Blues
Composer: F. LaMothe
Album: Bob Crosby: A Centenary Tribute (His 52 Finest 1935-1942)
Label: Wyastone Estate
Artist: Manzoor Khan Langa, Dhodhe Khan, Chandra Shekhar Kalla
Song: Snake Charmer
Composer: trad.
Album: Discovery of India Snake Charmer
Label: Saregama
Artist: Ina Te Waiata
Song: Hinemoa and Tutanekai
Composer: trad.
Album: Famous Maori Legends
Label: Kiwi Pacific Records International
Artist: Aquarela & Oboman Fillon
Song: Apanhei-Te Cavaquinho
Composer: E. Nazareth
Album: Choros do Brazil
Label: Ad Lib
Artist: Metalocalypse
Song: The Duel
Composer: T. Blancha/B. Small
Album: The Doomstar Requiem: A Klok Opera Soundtrack
Label: BS Records
Artist: John & Jackie
Song: Little Girl
Composer: G. Maltais
Album: Rockin' Bones: 1950's Punk & Rockabilly
Label: Rhino
Artist: Hozan Yamamoto
Song: Kogarashi from Tozanyru Shakuhachi Honkyoku
Composer: trad.
Album: Music of Shakuhachi: Sokaku Reibo
Label: Victor Entertainment
Artist: Benny Goodman
Song: Sing, Sing, Sing
Composer: L. Prima
Album: The Essential Benny Goodman (Remastered)
Label: Sony BMG
Artist: London Festival Orchestra, Ferdinand Lang & Patrick Sewell
Song: Flute Concerto No. 2 in D Major, K. 314: I. Allegro aperto
Composer: W. Mozart
Album: Mozart For Brain Power
Label: Big Eye Records
Artist: Bridget Douglas & Carolyn Mills
Song: Pearls of the Sea
Composer: E. DeCastro-Robinson
Album: Flight (Music For Flute and Harp)
Label: Atoll Limited
Artist: AC/DC
Song: It's A Long Way to the Top (If You Wanna Rock'n'Roll)
Composer: M. Young/A. Young/B. Scott
Album: High Voltage
Label: Albert & Son (Pty.) Ltd.
Artist: Bergen Wind Quartet
Song: Quartet For Flute, Oboe, Clarinet and Bassoon: III. Allegro Molto
Composer: J. Francaix
Album: Francaix: Quintets - Quartet - Divertissement
Label: BIS
Artist: Lloyd Price
Song: Personality
Composer: H. Logan/L. Price
Album: 200 Rock & Roll Hits
Label: Rendez-Vous Digital
Artist: Vic Mizzy & His Orchestra
Song: One Little, Two Little, Three Little Tombstones
Composer: V. Mizzy
Album: The Addams Family
Label: Master Classics Records
Artist: Gerry Rafftery
Song: Baker Street
Composer: G. Rafferty
Album: City To City
Label: Parlaphone Records