There are many people who want to sing or join a choir but who can't read and sing music at first sight, so at the University of Otago, Judy Bellingham (left), from the Department of Music, teamed up with Geoff Wyvill (right) from the Department of Computer Science to develop an app to help people learn not only to sight-sing music but also learn some basics about music in general.
"It basically teaches you to read music, and read rhythms and be able to sing them yourself," says Judy.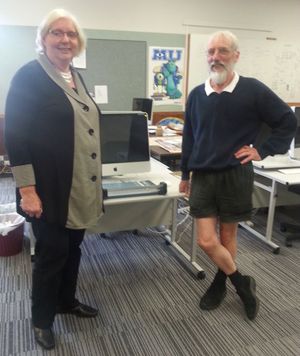 The app has 228 exercises and is most likely to be used on an iPad or tablet so the text can be read more easily, although it could also be used on a mobile phone. The microphone in these devices would be sufficient to pick up the notes being sung by the user.
Behind the app is a computer programme called Tartini, which was also developed at the University of Otago.
"It is the engine in the middle which recognises pitch," says Geoff.
When someone using the app sings, a series of notes that are black will change colour to show either whether the note is wrong, or if the rhythm is wrong, after the notes are sung.
One thing the app allows users to do is sight-sing confidently in their own home, without anyone else listening, and know whether they have sung the notes correctly or not.
"I always think that sight singing's a bit like stripping in public, you expose everything that you've got," says Judy. And when you're sight singing you have to expose your musicianship, your musicality but most of all what your voice sounds like. And perhaps even worse than that is what your voice sounds like when you're doing it wrong."
Corwin Newall, a pianist and composer, who is also completing a Computer Science degree, is working on the app, which is likely to be completed in November or December, and available commercially in the future.