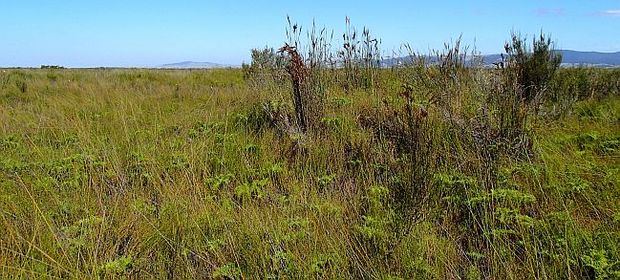 In the middle of the once swamp-covered Hauraki Plains, surrounded by dairy farms, lies Kopuatai Bog, one of New Zealand's natural wonders, and the largest remaining raised (domed) bog New Zealand. It is also the only significantly unaltered restaid bog left in New Zealand (image: A. Ballance)
The Kopuatai peat bog is a secret thigh-high wilderness, a 'wet desert' made from a large shallow dome of peat that is up to 12 metres thick in places. Alison Ballance treks into the middle of the 10,000 hectare peat bog to hear about the plant that has 'engineered' this remarkable wetland. The plant is Empodisma minor, the jointed wire rush, and the 10-12 metres of peat that underlie the top half metre or so of vegetation is created from dead wire rush. A thick litter of dead jointed wire rush acts as a mulch above the peat, which may contain up to 90% water. This contrasts with northern hemisphere peat bogs which are created from sphagnum moss.
David Campbell holds the tall stems of Sporodanthus, or bamboo rush, a rare jointed rush that occurs in only three locations (left), including the Kopuatai peat bog. At right, David holds a matted tangle of roots of jointed wire rush, Empodisma minor, which is the major peat-forming plant in the bog (images: A. Ballance)
Alison's guide to this RAMSAR wetland is University of Waikato soil scientist David Campbell, who is using the bog as a natural laboratory to understand its role in the carbon cycle – how it uses and stores carbon – and by extension its role in global climate systems. David and his team have erected an eddy covariance tower in the middle of the wetland which samples carbon entering and leaving the ecosystem. The tower has been in place for just over 2 years, and has so far measured across a very wet summer and a very dry summer, with very different results.
David Campbell stands next to the eddy covariance tower in the middle of the Kopuatai peat bog; an array of instruments measuring carbon flux in and out of the bog are mounted on the towere. At right, David uses a bread knife to trim a peat core sample (images: A. Ballance)