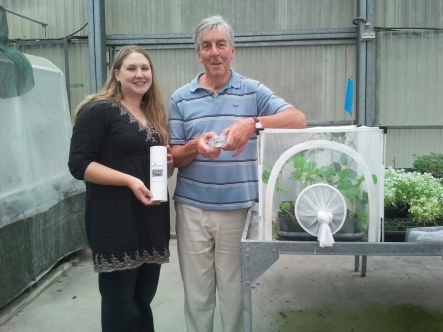 Emily Fountain and Steve Wratten with containers of ladybird eggs and adults they received from Bioforce Ltd, a commercial breeder of biological control agents (images: V Meduna).
This week, Lincoln University ecologists have released a batch of southern ladybirds in a potato crop on an organic farm in Hororata in mid-Canterbury. Their hope is that the ladybirds will help control a tiny sap-sucking insect pest that has caused major damage in the potato industry. 
Steven Wratten, Emily Fountain and Andrew Pugh, at the university's Bio-Protection Research Centre, have tested the ladybirds on glasshouse potato plants affected by the tomato-potato psyllid, or TPP, and found that they are voracious predators and could be good candidates for biological control.
TPP, a native to central America, feeds on leaves and can transmit a harmful bacterium which damages potatoes, tomatoes, capsicums and eggplants. Ladybirds have been introduced in New Zealand during the 1970s as a biological control agent of eggs of the eucalypt tortoise beetle. In this case, the control programme is called a "new association", which means that the natural enemy, the ladybird, has not encountered the pest, TPP, before. Research has shown that such an approach has a significantly greater success rate than if the control agent has co-evolved with the pest.
This field release complements research by Plant and Food Research, which uses other insects as possible biological control agents.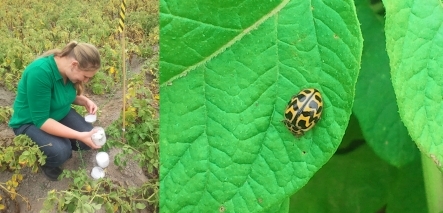 Emily Fountain releasing a batch of adult southern ladybirds among the potato plants.