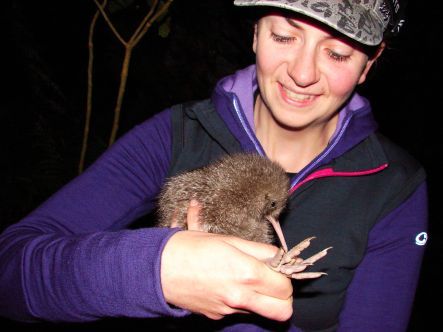 Helen Taylor holds a little spotted kiwi chick - just a few days old the chick is already foraging on its own at night (image: J. Briggs)
Little spotted kiwi are the smallest of the five kiwi species, and today's population of 1700-or-so birds are all descended from just five individuals that were translocated to Kapiti Island in the early twentieth century. PhD student Helen Taylor from Victoria University is looking at the effect of this genetic bottleneck on the breeding success of little spotted kiwi, and Alison Ballance joins her for a night-time expedition in the Zealandia sanctuary in central Wellington to collect information from a newly-hatched chick. Helen has a keen team of volunteers helping her, and on this evening she is joined by Bronwen Shepherd and Judy Briggs.
Helen is comparing the genetics and breeding success of birds at Zealandia, which are descended from 40 birds translocated from Kapiti Island, to the population on Long Island in the Marlborough Sounds which is descended from just two birds.
Chick-timer transmitters on the male birds, which incubate the eggs, alert the researchers as to when incubation and hatching have happened – you can listen to Helen explaining the transmitters to Simon Morton in this story from This Way Up.
Andrew Digby from Victoria University has recently completed his PhD on the calls of little spotted kiwi – you can listen to that Our Changing World story here.