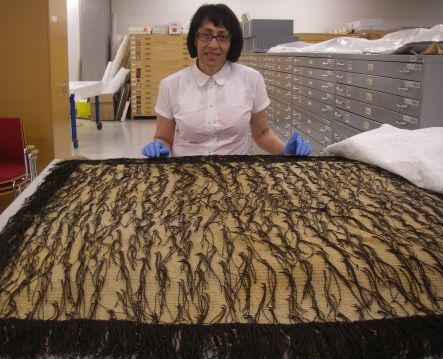 Rangi Te Kanawa with a kakahu or Maori woven cloak made from New Zealand flax fibre or muka. The decorative black thrums were dyed using hinau bark extract and iron-rich paru mud, and on this cloak they have been treated with sodium alginate to prevent any further deterioration (image: A. Ballance)
Last week on the programme we visited the National New Zealand Flax Collection, which holds varieties of harakeke valued by Maori for weaving baskets and cloaks. Te Papa Tongarewa, the New Zealand national museum, holds the world's largest collection of such kakahu or Maori woven cloaks, dating back several hundred years. But age is taking its toll, and many of the cloaks are becoming very fragile.
Rangi Te Kanawa belongs to a famous weaving family, and she is also Conservator of textiles at Te Papa, with a special interest in Maori textiles. She has been collaborating with chemist Gerald Smith from the School of Chemical and Physical Sciences at Victoria University to find out what is causing these valuable cloaks to deteriorate, and to come up with a way of preventing them falling apart any further.
The main problem is with black-dyed textiles, where the muka or fibre was dyed with an extract from hinau bark and then submerged in iron-rich mud known as paru. Some varieties of harakeke are rich in hemicellulose, which produces acetic acid as it ages, and the iron-rich mud also increases the acidity of the fibre over time, and it is this acid which causes the deterioration. This is a problem common to all old textiles and also to old movies and photographs, and is known in museum circles as 'vinegar syndrome'. Gerald and Rangi discovered that sodium alginate, an alkaline seaweed extract, can be used to consolidate the disintegrating fibres, essentially binding them together, and also counteracting the acidity and preventing further fading.
You can find a press release here (dated 11 September 2012) about the research effort.