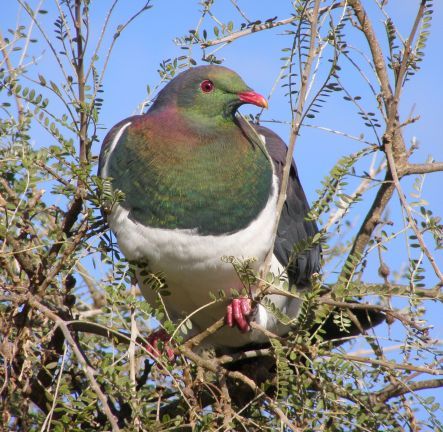 And a kereru in a kowhai tree ... (image: Rosalynn Anderson-Lederer)
There's been a resurgence in native bird numbers in towns and cities around New Zealand in recent years. In Wellington, some of that has been attributed to the halo effect of the Zealandia sanctuary, while possum trapping, maturing gardens and regenerating bush also play an important role.
One species that is doing very well in Wellington is kereru, our large native pigeon. Monica Awasthy did her PhD at Victoria University looking at how kereru use gardens and bush reserves, and she's been involved in the Kereru Discovery Project. She offered to take Alison Ballance to a well-known kereru hot spot at Otari-Wilton's bush, but on a wet day there was more talk about kereru than sightings of actual kereru!
For information on kereru-friendly garden plantings, advice on what to do with injured birds and other kereru-related information check out the WWF-Wellington City Council-sponsored Kereru Discovery Project website.