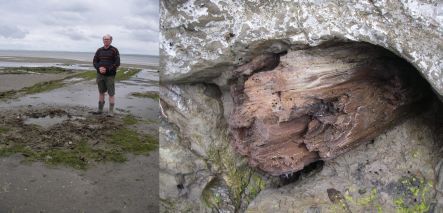 Bruce Hayward standing among fossilised kauri tree trunks on the shore of the Maunkau Harbour, and a trunk preserved in a volcanic ash fall 60-80,000 years ago (images: A. Ballance)
Auckland is well-known for its volcanoes, but there are some lesser known volcanic features that help paint a picture of the area's turbulent volcanic past. On the shores of the Manukau Harbour, at the end of Renton Road, lies a forest which was buried and preserved under volcanic ash. Geologist Bruce Hayward, of Geomarine Research, is the author of the recent book Volcanoes of Auckland, which includes information on both this buried forest, and another one buried by a lava flow at Takapuna. Alison Ballance joins him at the beach in a race against the incoming tide to see the remarkably well-preserved trees.
Bruce Hayward featured in an Our Changing World story last year, breaking news of four previously unrecognised volcanoes in Auckland.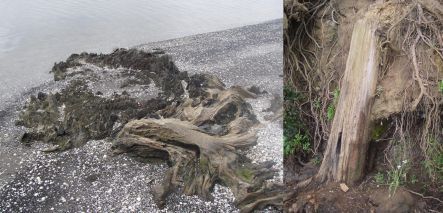 Fossilised trees (images: A. Ballance)