By Alison Ballance
Ged Wiren netting fish at the outlet to a rock pool on Meyer Island, and the HMNZS Otago (left) and the Braveheart at anchor with Raoul Island just visible to the left (images: A. Ballance)
The Kermadecs Biodiscovery expedition headed to New Zealand's remote sub-tropical Kermadec Islands in May for three weeks of surveying and collecting, based on board MV Braveheart. Led by Auckland Museum fish biologist Tom Trnski, the trip involved 13 scientists from Auckland Museum, Te Papa, the Australian Museum and the Department of Conservation, with expertise in fish, marine and terrestrial invertebrates and botany. The idea was to carry out a comprehensive survey and collection of coastal marine species around each of the archipelago's four groups of island, and complement that with invertebrate and plant surveys on as many of the islands as possible.
Alison Ballance was on board to record events and discoveries, write a blog, and help out with fish collecting. In the first episode of a new Kermadecs series, she talks with NIWA's Malcolm Francis about the island group's unique mix of fish species, finds out about the expedition's aims from Tom Trnski, and then joins the 'fish team' as they use rotenone in a rock pool to collect fish. Australian Museum's Mark McGrouther, and Auckland Museum's Ged Wiren and Stephen Ullrich don their wetsuits and join Tom in the rock pool.
A group of artists also visited the Kermadecs in May - click here to find out more about their trip.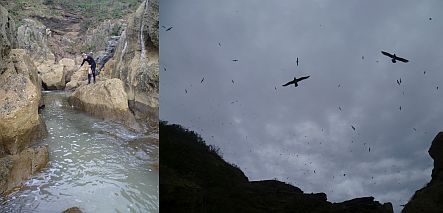 Mark McGrouther putting rotenone into an intertodal rock pool, and seabirds wheeling over the island (images: A. Ballance)