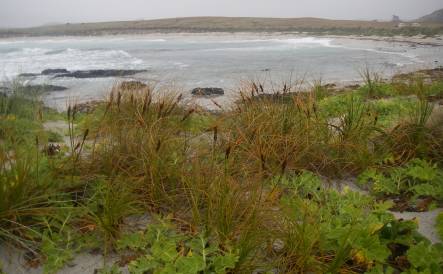 Wharekauri Beach with pingao and Chatham Island sow thistle planted in the foreground (image: A. Ballance)
The Department of Conservation has been running two dune restoration projects on the main Chatham Island for nine years. Introduced marram grass has been removed by spraying, and replaced by native species. The project was originally designed to create better habitat for the endangered Chatham Island oystercatcher by re-creating more open beach conditions, but is also proving to be a useful threatened plant conservation project. DoC ranger Bridget Gibb talks to Alison Ballance about Chatham Island forget-me-nots, Chatham Island sow thistle, pingao or golden sand sedge, as well as shore spurge, and shows her the Chatham Island akeake planted at the back of Wharekauri Beach to recreate coastal bush.
The New Zealand Dune Restoration Trust has information about other dune restoration programmes around New Zealand.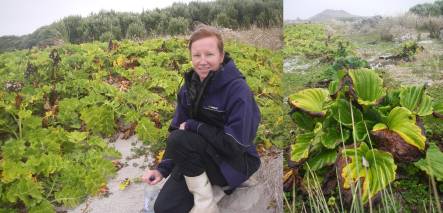 Bridget Gibb with self-seeding sow thistles, and plantings of Chatham Island forget-me-nots (images: A. Ballance)