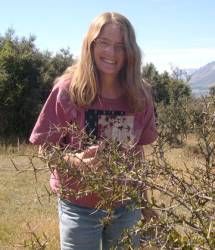 There may be as many as 50-60 species of cicada in New Zealand, found from the dunes to the alpine zone. The largest species is the chorus cicada (Amphipsalta zelandica), which has a wingspan of up to eight centimetres, while the smallest species of Maoricicada have a wingspan of less than 3 centimetres. The chorus cicada is the loudest and one of the most familiar cicadas, and its Māori name is kihikihi wawā - wawā meaning 'to roar like the sound of heavy rain'.
Cicada expert Chris Simon (right) splits her time between the University of Connecticut in the United States, and her study site in her Wellington garden, which is home to five species of cicada. Alison Ballance visits her in her garden to meet a shade-singing cicada called Kikihia scutellaris, which she refers to as the washing line cicada, and to find out about biology of our familiar noisy neighbours. Part two of this story will air next week.
There are some great online cicada references: check out Chris Simon's Cicada Central, where you can see pictures and hear audio of cicada songs; Landcare Research has a virtual identification guide; and Te Ara also has lots of interesting information.