Our Changing World for Thursday 11 July 2013
Neurosurgery and 3D Computers
At Auckland City Hospital, about four critical brain surgeries are carried out every day, and one of the tools used in the operating theatre is a system known as Stealth.
Stealth is brain imaging equipment that guides the surgeon's scalpel with technology used by stealth bombers, and maps the brain using 3D modelling techniques from the film industry. It allows surgeons to accurately track where a tumour is -- a far cry from what was used in the past, when X-rays were taken into the operating room and surgeons had to measure where they thought a tumour was.
Stealth is used mainly in tumour cases, but it is also used for deep brain implants for Parkinson's diseases, placing shunts into the ventricles, and some cases of arteriovenous malformation.
Ruth Beran catches up with Auckland City Hospital's Head of Neurosurgery Edward Mee in a small window between operations, and with Meditronic's Robert Parkes to see how the system works.
Breeding Virus-Resistant Oysters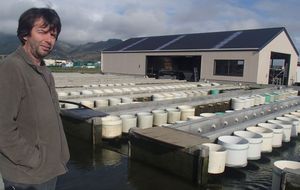 Introduced Pacific oysters are an important aquaculture industry, but since the ostreid herpes virus was discovered in New Zealand oysters in late 2010 production has more than halved and hundreds of jobs have disappeared. To find out what's being done to help the industry Alison Ballance heads to Cawthron Aquaculture Park to meet Nick King, Cultured Shellfish Programme Leader at the Cawthron Institute. The Cawthron Institute has been breeding oysters for many years, working to increase the value of the product by breeding for attributes such as size and appearance. Now they are working with industry to breed virus-resistant oysters, and report that the first results are promising.
In the photo above, Nick King stands next to tanks containing oyster spat that has been bred in Cawthron's breeding programme and is now being grown on by Aotearoa Fisheries.
Mathematics of Epidemics
Infectious diseases spread in unique patterns, but by modelling the dynamics of an epidemic, mathematicians can help to predict how each infection will proliferate and how it may be controlled or even eliminated. In this preview of his Royal Society of New Zealand lecture, Massey University mathematician Mick Roberts discusses how infectious diseases are transmitted, how they evolve in parallel to changes in the host's response, and why some persist in populations.
Mick Roberts has advised the New Zealand Ministry of Health on changes to the measles and whooping cough vaccination schedules, on pandemic influenza preparedness, and on response plans for SARS and smallpox outbreaks. He also advised the World Health Organisation during the SARS pandemic, and the European Commission during the BSE crisis. 
He will present his lecture, which is part of of the Royal Society of New Zealand's 10x10 series, at Dunedin's Otago Museum, next Thursday, July 18, at 5.30pm.
Spotted Shag Spectacle at Tata Beach

In mid-winter the spotted shags that gather at Tata Beach on most mornings are in full breeding plumage (image: A. Ballance)
Golden Bay is home to a wildlife spectacle that only a few early risers know about. Each day at dawn, especially in mid-winter, large numbers of spotted shags arrive at Tata Beach for a bit of bathing and stone swallowing and regurgitating. And for the last 4 years a group of locals, led by John Barraclough, has been counting and observing the shags to try and work out what's going on. The highest number of birds they have counted on the beach in a single morning is 5000, and although spotted shag numbers declined significantly last year they now seem to be rebuilding.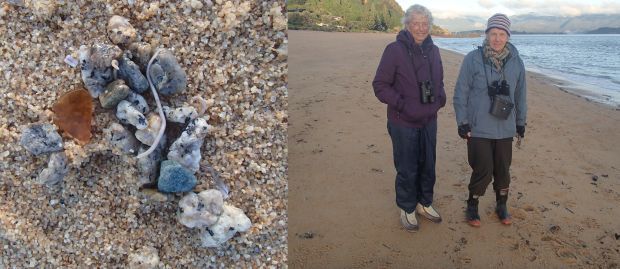 The pile of regurgitated stones at left includes a piece of sea-worn glass and a parasitic nematode worm; there are piles of regurgitated stones on the beach at the feet of Rosemary Jorgenson (left) and Helen Kingston (images: A. Ballance)
With group members Helen Kingston and Rosemary Jorgenson from the Ornithological Society of New Zealand as her guides Alison Ballance managed to time a visit to the beach just hours after a big storm ended. The waves breaking on the beach failed to deter about 200 spotted shags that turned up and duly left piles of regurgitated stones on the beach. You can see video of the shags here.
Spotted shags have been regular dawn visitors to Tata Beach in Golden Bay for as long as anyone can remember. Smaller numbers also gather on some other local beaches, inclduing in nearby Abel Tasman National Park (image: A. Ballance)