Our Changing World for Thursday 27 June 2013
Hydrogen on Matiu Somes Island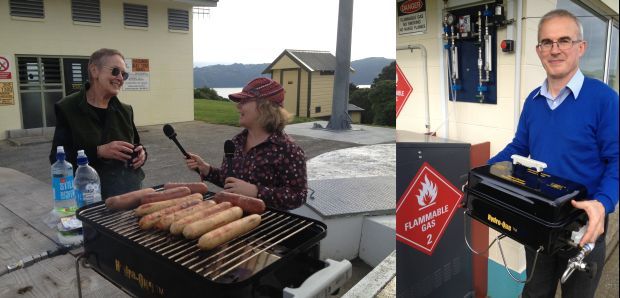 Ruth Beran interviewing in front of the barbeque and Robert Holt standing next to the electrolyser.
On Matiu Somes Island in Wellington Harbour, the Department of Conservation has installed a renewable energy system which has made a diesel powered generator practically redundant.
The 'HyLink' distributed hydrogen energy system, created by Callaghan Innovation, captures renewable energy from a small wind turbine or photovoltaic solar cells. Any energy in excess of that stored by batteries powers an electrolyser that extracts hydrogen from water by separating it into hydrogen and oxygen molecules.
The system stores hydrogen in an "earth battery", consisting of two cylinders, under the ground. Currently, the hydrogen powers a small barbeque, but in the future could be used to fuel a hot water system for staff, and another larger barbeque in the main entertainment centre.
The system is a prototype, but if commercialised could potentially be used in remote communities in New Zealand, or in the Pacific Islands, where LPG is used to fuel home cooking but is expensive to transport. A commercial Hylink system could power cooking for five families. The advantage of using hydrogen for cooking is that it produces no carbon dioxide, just steam, although this creates its own problems as hydrogen burns with an almost invisible flame.
Ruth Beran meets Robert Holt from Callaghan Innovation to see how the system works and brings some sausages along to test the barbeque.
Listen to a previous story about the Hylink distributed hydrogen energy system in the farming community of Totara Valley on Our Changing World here.
The Maths of Climate Change
American climate change campaigner Bill McKibben was in New Zealand recently on a lecture tour called Do The Maths. Bill was a co-founder of 350,org, which describes itself as a global movement to solve the climate crisis, and Alison Ballance spoke with him about the numbers and about the concept of 'unburnable carbon'. 350.org argues that we can emit 565 more gigatons of carbon dioxide and stay below 2°C of warming, which is the amount of warming that the world has agreed we can cope with. However, burning the fossil fuel that corporations now have in their reserves would result in emitting 2,795 gigatons of carbon dioxide – five times the safe amount. These numbers come from work by think-tank Carbon Tracker and the Grantham Institute at the London School of Economics, which have recently released reports on Unburnable Carbon and the Carbon Bubble.
As well as their fossil fuel divestment action, in which they are lobbying colleges and churches, for example, to remove fossil fuel investments from their investment portfolios, 350.org has been campaigning against the controversial Keystone XL pipeline. This is a 3500-kilometre pipeline to transport bitumen from oil tar sands in Canada to refineries in the southern United States. On Tuesday 25 June, the United States President Barack Obama delivered a significant speech on climate change, in which he asked the US State Department not to approve the construction of the pipeline unless it can first determine that it will not lead to a net increase in greenhouse gas emissions.
Obama also outlined a broad range of measures to cut greenhouse gas emissions, promote the development of renewable energy, protect coastlines and cities from flooding and sea-level rise, and encourage efforts to reach a global climate deal. He also issued an executive memo to the Environmental Protection Agency, calling for new rules curbing greenhouse gas emissions from power plants, which produce forty percent of U.S. carbon dioxide emissions, and one-third of its greenhouse gases overall.
Bill McKibben was also interviewed by Kim Hill on Saturday Morning. Bill McKibben wrote an article on Global Warming's Terrifying New Math for Rolling Stone magazine. Bill McKibben also features in This American Life's episode on the climate change conversation in the US, called Hot in my Backyard.
Rethinking Rangitoto's Volcanic Activity
Rangitoto is the most recent volcano to erupt in Auckland, and geologist thought that it formed during an eruption some 500 years ago. However, by analysing sediment cores from the nearby Lake Pupuke, University of Auckland geologists Phil Shane and Paul Augustinus have discovered that the volcano erupted intermittently or almost continuously from about 1500 to 500 years ago. In the lake sediment, the team found frequent deposits of volcanic glass shards, which have been dated and chemically fingerprinted as Rangitoto material. These small pulses of volcanic activity reach back to 1500 years ago and have continued all the way to more substantial eruptions around 550 and 500 years ago. While many studies of the Auckland volcanic field use radiocarbon dating methods to determine the age of samples taken directly from a volcano, the team used lake sediments because they can be dated on a much finer scale and contain traces of smaller eruptions which cannot be detected on the volcano itself because they are usually buried by later eruptions.
This study is part of an ongoing research project into the history of volcanic eruptions in the Auckland region.
Evolution of Saddleback Song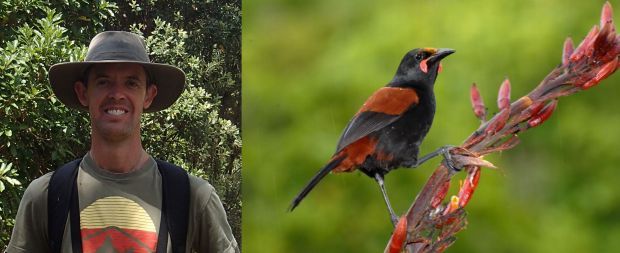 Kevin Parker, and an adult North Island saddleback with flax pollen on head (bird image © Peter Reese, from nzbirdsonline.org.nz)
North Island saddlebacks - or tieke - are one of New Zealand's conservation success stories. By the 1960s they were found on just a single island, Hen Island in the Hen and Chicken group near Whangarei. Since then they've been successfully moved to a number of different islands and mainland sanctuaries. And, as birds were moved from one island to another, biologists noticed that interesting changes to their songs were taking place.
Alison Ballance heads to Tawharanui Regional Park, north of Auckland, to meet some saddlebacks - and song bird expert and independent scientific consultant Kevin Parker who fills her in on what's happening. Kevin carried out PhD and post-doctoral research at Massey University on the evolution of saddleback song, and is very interested in bird translocations. In March 2012 Kevin and the Tawharanui Open Sanctuary Supporters organized a translocation of 90 saddlebacks to the park, and designed it to be a natural experiment that would both maximize the genetic diversity of the founder population, and also enable Kevin to follow what happened when three different song lines were combined. The translocation involved 30 birds from each of Lady Alice Island, Red Mercury Island and Mokoia Island – these populations have different lineages and each represent a different order of translocation from the ancestral population on Hen Island.
Tawharanui Regional Park (image: A. Ballance)