Our Changing World for Thursday 2 August 2012
Dune Restoration Trust and Loder Cup
Every year since 1929 the Loder Cup has been awarded to 'encourage and honour New Zealanders who work to investigate, promote, retain and cherish our indigenous flora'. In that time it has been awarded to a veritable who's who of New Zealand plant conservationists.
The Loder Cup is currently held by Mark Dean who, with his wife Esme, owned and ran the native plant nursery Naturally Native for 32 years.
Mark is also very active in the Dune Restoration Trust, working to save some of New Zealand's most threatened ecosystems. To find out more Alison Ballance met with Mark and fellow trustee Harley Spence on a cold windy day on Wellington's south coast.
Next week we feature the Maketu Ongatoro Wetland Society, which last year won the Dune Restoration Trust's Best Coastal Dune Restoration Project Award.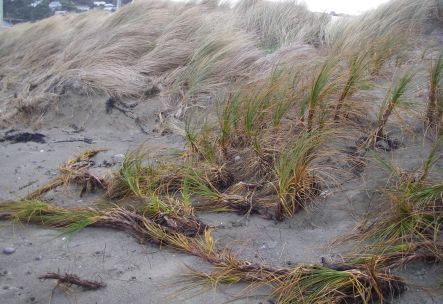 Dune restoration at Lyall Bay on Wellington's South Coast - the native sandbinder pingao (in the foreground) has been planted next to self-introduced exotic marram grass (image: A. Ballance)
Better Ventilation in Classrooms
Mikael Boulic with the filter system that helps him monitor levels of bacteria (image: courtesy of Sciencelens Ltd).
Children spend the second largest proportion of their time at school, but most New Zealand classrooms have inadequate ventilation, relying mostly on open windows. Consequently, children can be exposed to avoidably high levels of respirable pathogens and pollutants. Conventional mechanical ventilation is often too expensive for schools, but Mikael Boulic, at Massey University, is preparing to test a low-cost solar-heated roof ventilation system which he hopes will turn classrooms into healthier places.
Mikael is installing the system in ten predominantly low-decile junior classrooms this winter and will test it during two terms this year and again next year. In the first monitoring period, five classrooms will use the ventilation system and five will act as controls, and they will switch during the second term. He will monitor exposure to streptococci (through throat swabs) and total airborne bacteria, coughing and sneezing frequency, chemical pollutants and absenteeism.
Overseas studies have shown significantly lower levels of bacteria and pollutants when classrooms were mechanically ventilated. The roof system used in this study has been pilot-tested in a house during the winter of 2010 and achieved acceptable ventilation as well as sufficient free heat to warm the dwelling to a comfortable temperature.
Bats and Geckos as Pollinators
When we see native trees such as pohutukawa covered in flowers, we assume that the birds that flock to the trees during the daytime are doing all the work of pollinating the flowers. But it turns out that it is the night shift that is really important – and this was only recently discovered on predator-free Little Barrier Island. David Pattemore, a pollination biologist at Plant and Food Research, was carrying out his PhD research, comparing Little Barrier Island to various mainland forest sites when he made the discovery that short-tailed bats are frequent visitors to forest flowers, and are highly effective pollinators – much more effective than birds, as it turns out. Geckos were also pollinating flowers on rat-free islands, and David even recorded video footage on the mainland which showed that ship rats themselves were helping pollinate some species of flowers. He tells Alison Ballance about his research. You can see video footage of bats pollinating pohutukawa flowers here.
Thiols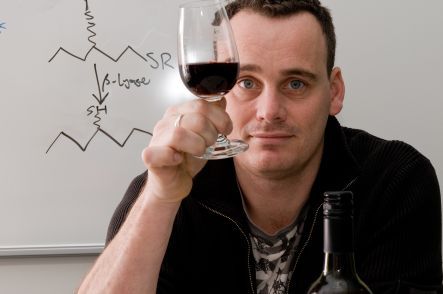 Robert Keyzers (image: Robert Cross, VUW Image Services)
In Robert Keyzer's laboratory the fridge where analytical standards for wine flavour and aroma work is kept, is dubbed the "stinky fridge". The main culprit of the smell are thiols. These are volatile, sulpher containing molecules that give sauvignon blanc its gooseberry, tropical and passionfruit aromas at low concentrations, and unpleasant cat pee aroma at higher concentrations.
Free thiols are present in wine but not in grapes and measuring these molecules in wine is currently done with a technique that uses toxic organomercury compounds. Robert is developing a better method which uses a thiol-sensitive fibre to measure the molecules that gives this wine these aromas. The ultimate aim is to develop wines with specific flavor and aroma profiles to target specific export markets.
Mystery Sound
The third sound in our opening theme is wind in Antarctica – and more precisely, it's wind howling around the aerials at Scott Base when the weather was classified as Condition Two, meaning high wind speeds and poor visibility which grounds planes and confines everyone to the base area. Here are links to several stories recorded in Antarctica on benign Condition Three days in the summer of 2010-11 – extremophile microbes and mapping the Dry Valleys. You can find more stories by searching for Antarctica from the Our Changing World web page.