Our Changing World for Thursday 23 September 2010
Vision Perception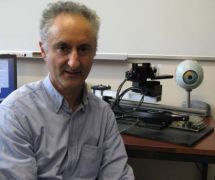 Alison Ballance heads to Waikato University to meet a psychology department team working on vision perception, and on questions such as 'how does our brain make three-dimensional pictures from the two-dimensional images recorded on the back of our retinas', 'how does the world stay still when we move our eyes' and 'are there visual illusions that might explain the high number of accidents with trains at level crossings'.
Psychology lecturer John Perrone(pictured above with computer controlled camera that moves on tracks. Image: A. Ballance), PhD student Sasha Boer and Masters student Helen Clark explain their work.
John Perrone has just received new Marsden funding for a project titled 'Why the world does not look flat to Cyclops and one-eyed pirates: the role of visual motion in human depth perception.' 102 projects shared $60 million worth of funding in the 2010 round which was announced by the Royal Society of New Zealand on 24 September.
Parkinson's Disease and Virtual Reality Rehabilitation
Parkinson's disease affects 1% of people over 60 and has a detrimental effect on motor performance. When you think of people who suffer from Parkinson's disease, for example Muhammad Ali or Pope John Paul II, it's their small, slow and jerky movements that you remember.
A team of researchers at the Van der Veer Institute and the University of Otago, Christchurch have developed a 3D virtual reality system to understand changes in, and potentially improve, motor learning in Parkinson's disease. Funded by the Neurological Foundation of New Zealand and Foundation for Research, Science and Technology, the system (pictured right) was tested by 24 people with Parkinson's disease and 24 matched controls and led to improved learning in Parkinson's disease, with changes lasting longer than in the control subjects.
Ruth Beran gets to experience the 3D virtual reality system for herself and meets mathematician Daniel Myall and experimental psychologist Michael MacAskill, who developed the system in conjunction with clinical neurologist Tim Anderson and biomedical engineer Richard Jones.
Animals and Pain
Craig Johnson, a graph of frequencies from EEGs after fast fourier transformation of two cattle that have undergone scoop dehorning. Both animals were under anaesthetic but one also had a local analgesic (left) while the other did not (right) (image: Craig Johnson)
Pain is a two step process, the first is a reflex action when a painful stimulus happens, the second is when the brain registers pain. Massey University's Craig Johnson is recording electrical activity of the brain to determine if animals actually feel pain.
His research has been applied to animals that have undergone various procedures, including scoop dehorning, castration, and religious slaughter. His research has already affected legislation here in New Zealand and potentially will have impacts worldwide. Ruth Beran speaks with him in his lab in Palmerston North.
To hear more about animals and pain, listen to the following interview of Victoria Braithwaite on Nine to Noon, where she argues that fish should be given the same levels of protection as birds and mammals.
Dunedin Science Expo
As part of the food-themed International Science Festival in Dunedin, the University of Otago ran a two-day science expo called 'Feeding the Mind'. University departments were challenged to come up with interactive and engaging ways of explaining their science to a youthful audience, and as Alison Ballance found out it was a great hit with the kids. The International Science Festival is held every two years - look out for it in 2012.