Our Changing World for Thursday 9 September 2010
Measuring Soil Carbon

Louis Schipper (left) and Dave Campbell (right) installing an eddy covariance instrument for measuring the carbon entering and leaving the soil via photosynthesis and respiration on a Waikato dairy farm (Images: Waikato University)
There is more carbon stored in the average New Zealand soil - about 150 tonnes per hectare - than in both the vegetation and the atmosphere above. Soil scientists Louis Schipper and Dave Campbell from Waikato University's department of Earth and Ocean Sciences, are interested in measuring how this store of carbon fluctuates over time in pastoral systems. They are also developing 'carbon budgets' for farms that allow farmers to know whether their soils are gaining or losing carbon. They recently purchased some new equipment, partly funded by the newly-formed New Zealand Agricultural Greenhouse Gas Research Centre, that will allow them to make more precise measurements of soil carbon flux, and they showed the new tools to Alison Ballance, and explained some of their research to date that has showed significant differences between soil carbon storage under dairying and dry stock farming on different soil types.
The New Zealand Soil Carbon Conference is being held next week, 15-17 September, at Te Papa in Wellington.
Dave Campbell (left ) and Louis Schipper with a machine that is able to precisely measure carbon flux within the area covered by one of the 'upturned fishbowls'. (Image: A. Ballance)
Cryocoolers
A cryocooler, and Alan Caughley (left) and Neil Glasson (right) in front of a prototype, holding a metal diaphragm (Images: IRL)
Industrial Research Limited's Alan Caughley and Neil Glasson are designing cryocoolers: refrigeration units that can cool things down to the cryogenic temperatures of liquid nitrogen.
While cryocoolers have been around for a long time, they are generally found in the space and research industry where costs can be much higher. The cyrocoolers at IRL are being designed for industrial use with high temperature superconductors which require temperatures of up to minus 200ºC to function, and are found in motors, generators, transformers, cables, scanning and NMR magnets.
The cryocoolers being developed use a double metal diaphragm system to generate pressure waves. In turn, these waves drive the cooling mechanism in the "pulse tube", which reduce the temperatures down to cryogenic levels. Ruth Beran goes to the IRL workshop in Christchurch to see some of the cryocooler prototypes.
Hear more Our Changing World stories about high temperature superconductors and IRL's research.
Sea Shells in Orthopaedic Implants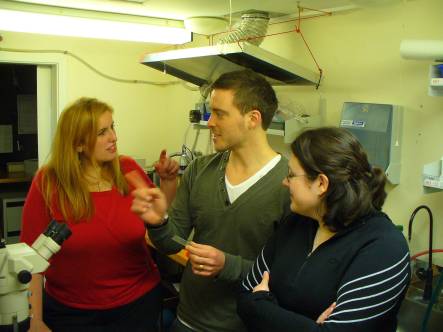 Kate McGrath (left), Benjamin Matthewson and Natasha Munro in the laboratory.(Images: Kate McGrath)
Orthopaedic implants usually last about ten years before they have to be replaced as they begin to damage the surrounding bone. MacDiarmid Institute investigator Kate McGrath says the main problem is that the titanium in the implant doesn't match with bone in terms of strength and durability.
Her team is now looking to biominerals found in sea shells to provide a buffer between the bone and the metal to extend the implant's lifetime. Biominerals are everywhere, from the patterned walls enclosing microscopic algae to the massive bones of a whale, but McGrath's team has chosen sea shells because they are based on calcium carbonate and are compatible with the calcium phosphate of human bone. Pictured above, on the right, is a close-up image of calcium carbonate grown in presence of sea urchin protein.
Veronika Meduna visited the laboratory to talk to Kate McGrath, postdoctoral fellow Natasha Munro and Benjamin Matthewson, a commercialisation manager at VicLink.
You can listen to some other related stories on Our Changing World: thin ceramic films and joint implants; molecular self-assembly with Kate McGrath; and biomineralisation in the lab.
Meningococci Bacteria
The bacteria Neisseria meningitides normally lives in the human throat without problem. However, occasionally meningococci invade the lining of the throat and enter the blood stream, resulting in meningococcal disease: meningitis and/or blood poisoning.
Meningococci are generally believed to be temperamental microbes which can't survive for long outside the host. Transmission is therefore generally thought to occur via coughing, sneezing or kissing. However, research by Victoria University and ESR PhD student Claire Swaine is challenging this assumption, following reports that transmission of meningococci can occur between people who have never met.