Our Changing World for Thursday 13 December 2007
On This Programme:
Environment
There are 40 different whale and dolphin species which live in or visit New Zealand waters. We have a long history with them and think of them as our friends. But what do they think of us? Amelia Nurse talks with marine mammal biologist Rochelle Constantine from the School of Biological sciences at the University of Auckland to find out.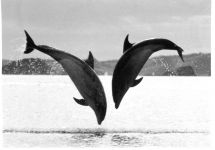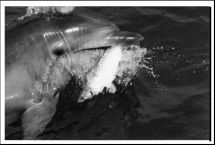 Bottlenose dolphins. Photos by Rochelle Constantine.
Science
Surrounded by lush Central Otago hills and paddocks, a team of researchers are laying microphones along the ground. They've got a sledgehammer poised over a steel plate and an improvised shotgun ready to shoot into the topsoil. What on earth are they up to?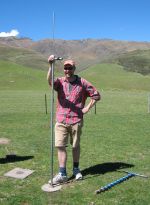 Geologists' van Andrew Gorman
They're geologists out on a seismic survey - monitoring echoes from different rock strata underground to build up a picture of an unmapped fault line. Andrew Gorman and Claudina Curran from the University of Otago showed Dacia Herbulock that you don't always need highly sophisticated equipment to get the job done.
Environment
A few weeks ago, Amelia Nurse went to see some Caspian terns' nests at Onoke Spit in south Wairarapa. But these weren't the only creatures her DOC companions were enamoured with. There was also a very small, very rare moth - the day-flying Notoreas Wellington, which lives on the Pimelea urvilleana or sand daphne in the area. It was the end of the day but they decided to stay a little while longer to see if they could find one.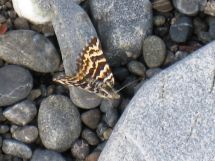 Eureka! Notoreas Wellington! Pimelea urvilleana
Health
A new study to help young people quit smoking will use video clips delivered to their mobile phones. This use of G3 multimedia is a world first and offers a variety of brief motivational and support messages. These include role models who talk about their own experiences while quitting smoking and animated sequences provided by staff and students of the Freelance Animation School. Louise Wallace speaks to the principal investigator of the study, Robyn Whittaker of the University of Auckland.