One In Five for Sunday 25 November 2012
7:06 PM.One in Five visits the McKenzie Residential School in Christchurch, a specialist facility for children with emotional and behavioural difficulties. Audio
This week One in Five visits the McKenzie Residential School in Christchurch, a specialist facility for children with emotional and behavioural difficulties.
Last month the Minister of Education, Hekia Parata, announced the school would close, along with Salisbury School in Nelson. The minister says an Intensive Wrap Around Service will instead be provided in each centre, allowing more students with complex needs to attend school in their own communities.
Two other facilities, Westbridge Residential School in Auckland and Halswell Residential School in Christchurch will remain open, catering to up to 100 pupils. But the move to close the McKenzie Residential School has been met with dismay by staff as well as students, both past and present.
They talk to Katy Gosset about how the school has changed their lives.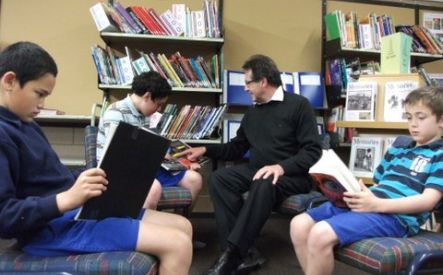 "The Principal of McKenzie Residential School, Greg Healy, with students in the school's library.