One In Five for Sunday 28 October 2012
7:06 PM.Katy Gosset looks at the impact of spinal cord injuries on intimacy within relationships and speaks to Claire Freeman about life after a spinal cord injury and the challenges it brings. Audio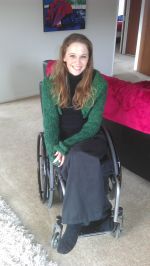 This week on One in Five we look at the impact of spinal cord injuries on intimacy within relationships.
Claire Freeman (pictured right) was injured in a car accident over a decade ago and says the experience has driven her to explore how such injuries can affect both the closeness between couples and other family relationships. Her research examines the experiences of five couples and forms the basis of a Masters Degree in Health Science.
Katy Gosset spoke to Claire and one of the couples involved about life after a spinal cord injury and the challenges it brings.