One In Five for Sunday 4 December 2011
7:06 PM.As the feature length documentary When A City Falls about the Christchurch earthquakes goes on general release in New Zealand, One in Five recalls a programme from earlier in the year when Mike… Read more Audio
As the feature length documentary When A City Falls about the Christchurch earthquakes goes on general release in New Zealand, One in Five recalls a programme from earlier in the year when Mike Gourley sneaks inside the Christchurch cordon to meet up with red zone resident, Frank Film's Gerard Smyth.
Gerard Smyth is a documentary film-maker in Christchurch. Instinctively, he reached for his camera seconds after the February aftershock started, capturing the early stories. Gerard traces his connection to the disability community through several of his films documenting the moves of people from Templeton to community living. Gerard is my first port of call. But as he lives and works inside the cordon ringing central Christchurch, getting to him might be tricky.

Inside the cordon, Gerard Smyth talks with Mike.
Then there's Jimmy Allen, a former Templeton resident now living in out in the community. He's supported by NZ Care in one of their group homes west of Christchurch. It was Jimmy's idea to take a few boxfuls of clothes to those people who'd been evacuated to the North Island. A road trip Jimmy says he'll never forget.
And there's Andrew Johnson (AJ), who gave his shoes to a barefoot tourist in Victoria Square, when he saw that her feet were cut and bleeding.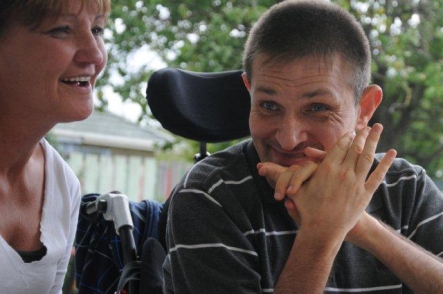 Andrew Johnson (AJ) with NZCare team leader Sharyn Smallridge.
In the meantime, Dot Beard survives in Christchurch's munted eastern suburbs. It's tough, but Dot continues to do her best to look afer other blind folk who she says are worse off than her.