One In Five for Sunday 17 April 2011
7:06 PM.A foot-care Nurse on the beat in Auckland, as well as an international expert on GBS argues for a greater awareness of the condition and its long term effects. Audio
Feet First
We all know we live in an age of increased specialisation. But is specialising in footcare going too far? Not according to registered nurse, Celia Frazer. She reckons that providing foot care management and advice to people is a good example of primary healthcare. Celia's on the beat in Auckland, as part of Disability supprt agency IRIS's healthcare service to its hundreds of clients.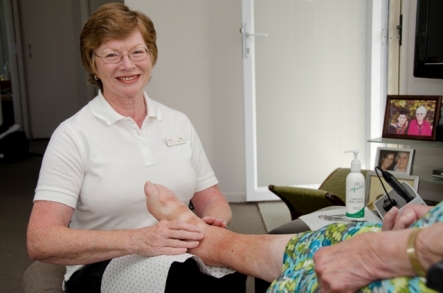 IRIS footcare nurse keeping the customer satisfied.
Recovery for people post-GBS
Gareth Parry is a Professor of Neurology at the University of Minnesota. But as a New Zealander by birth, he's a frequent visitor to these shores. More recently, Gareth Parry has taken up a consultancy at Wellington Hospital. Which comes as good news to Bob Stothart, who heads up the national Guillian Barre syndrome support group. That's because Gareth Parry is an international expert on a range of nuropathies, including GBS.