One In Five for Sunday 22 August 2010
7:06 PM.An intrepid disabled kiwi globetrotter; speaking about barriers to work; and the mental health and disability consultant who's got serious fun in mind. Audio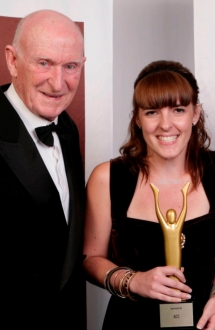 Doing the OE

We're catching up with Robbie Francis. She's last year's overall winner of the Attitude Spirit Award. Having completed a degree in world religion - not exactly a meal ticket - Robbie Francis has found a way to broaden her horizons - a Rotary Ambassadorial scholarship. And it's taking her to Tel Aviv. Hey, where better to do post graduate studies in World religion and Conflict? En route to the Middle East, Robbie reports in.
Right: Robbie Francis receives her Attitude Spirit Award from Sir Murray Halberg.
A Conversation about Work
When it comes to disabled people and employment, the news isn't good. That's according to Equal Employment Opportunities Commissioner, Judy McGregor, (left) who says that view sums up the feelings of hundreds of disabled people up and down the country. It comes out of what Judy McGregor calls the 'conversation about work'. That's a process the Human Rights Commission's been running over the last year. It's involved thousands of New Zealanders, including disabled people.
Hart Thoughts
Serious Fun 'N' Mind is one of the many projects and initiatives sponsored by the Like Mind Like Mine campaign. That's the campaign to reduce the stigma and discrimination associated with mental illness. She might not be as high profile as someone like John Kirwan, but in her life as a disability and mental health consultant, Barbara Hart says she's got good credentials to be part of the project.
In the wheelchair she's affectionately dubbed 'Dan Carter', Barbara Hart models her self-designed poncho.