One In Five for Sunday 21 March 2010
It's a case of cross cultural communication. Later east meets west in psychiatry. But first up, an art exhibition that's breaking the sound barrier. Up a flight of stairs to the Roar gallery in Wellington and it doesn't take long to see why. The many hands signing, voices interpreting and others speaking with deaf accents that makes this exhibition anything but usual. It's the fruition of five years of teaching a specialist Deaf Art programme at the Learning Connexion.
View images from Breaking the Sound Barrier.
7:30 PM.When teaching Deaf people art or when west meets east in psychiatry - a little cultural modification is required. Audio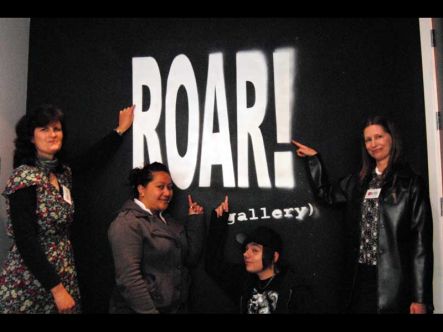 Artists Alesha Hudson, Rosie Solouota, Charlie Stout and Jane Daysh at the opening of Breaking the Sound Barrier.
Professor Wei jen Tseng teaches psychiatry in the school of Medicine at the University of Hawaii. I caught up with Doctor Tseng - as he likes to be called - while he was attending last year's Mental Health Services Australasian gathering in Perth.
Breaking the Sound Barrier
One in Five's Mike Gourley interviews the artists and others involved in the October 2009 exhibition Breaking the Sound Barrier.
Transcript provided by Ann Eaves.
Speakers:
Mike - Mike Gourley, Radio NZ One In Five Presenter and Producer
Rachel - Rachel Noble CEO, Deaf Aotearoa (through interpreter)
Vanessa - Vanessa Patea TLC Staff member
Alesha - Alesha Hudson TLC Deaf Student (through interpreter)
Stefan - Stefan Hall TLC Deaf tutor
Ann - Ann Eves TLC Communicator
Mike: Kia ora and welcome to One In Five where it's a case of cross cultural communication. Later, east meets west in psychiatry but first up, an art exhibition that's breaking the sound barrier.
Go up a flight of stairs to the ROAR Gallery in Wellington and it doesn't take long to see why. The many hands signing, voices interpreting, and others speaking with Deaf accents, makes this exhibition anything but usual.
And that's fine according to Deaf Aotearoa Chief Executive Rachel Noble.
Rachel: I'm really glad to be here and I'm really excited to see all of the art. Art by Deaf artists is really important and I'll explain why. At the moment the Deaf community is really aiming to raise Deaf awareness to make people more aware about Deaf issues and Deaf identity and Deaf culture and New Zealand Sign Language. Sort of like a celebration of being Deaf. And expression through art is a really good way of teaching the general public who have no idea and no experience about being Deaf. They can see the art and begin to understand how Deaf people view the world. So it's really exciting that The Learning Connexion is offering the opportunity for people to develop their own expression and Deaf expression, giving an avenue for Deaf expression which means they're helping to raise that awareness. So thank you for organising this exhibition and congratulations to all the artists. I'm really looking forward to looking at all your work. Thank you.
Vanessa: Kia ora
Mike: The Hutt Valley based Learning Connexion has been in the business of training Deaf artists over the last five years. It caters for onsite and distance learners like Alesha Hudson who's one of the artists exhibiting her work.
Alesha Hudson says she's come all the way from the far north of the country. But as she tells me through her interpreter, she's not one for letting distance get in the way of further learning in her life long passion.
Alesha: I think I wanted to become an artist because it was really something to do, like when I grow older, and a sense of achievement for myself. For many years I was going from one job to another and I thought art would be something I'd really enjoy, like a hobby, but it will develop and give me experience.
Mike: How difficult is it to be a long distance student? I mean, you're a long way away from The Learning Connexion, how difficult is it when you don't have all that stimulation of working alongside other people?
Alesha: For myself, I'm fairly assertive. I don't have any problem being on my own. I can learn independently. I'm a very independent student. I've kept in contact with the tutor and I've been learning by myself and making my progress and being in contact with other people, going to the library and learning in that way. And I'm developing my own confidence and learning to do it myself, practise it at home, do my art, really work hard at it. So really, I can be involved. There's DVDs with subtitles, clear pictures and really visual images when I'm reading to go with the English language and supplement it. So it's quite easy for me really to be aware of what's going on and learn from those clear resources.
Mike: How would you describe your art?
Alesha: I have 3 brightly coloured paintings up on the wall. And they're quite similar, they're connected. I was thinking about the theme "Expression" so I thought what does that mean? Does that mean facial expressions? So I looked at a face and thought what if the eyes are spaced differently? Or the mouths? There are more mouths than usual, that means more communication, does it? So they can talk in many ways. The eyes are far apart, they're seeing far, they're very visual things rather than just being closed in. And the faces, they've got wavy lines over the top and they're not quite outlines, they're outlined in straight lines and different ways, so it shows movement.
I have another one, another type of art that you can see. The two people, the mannequins, dressed up very fancily and posed in the middle of the floor, their clothes are made entirely of men's ties. A lot of hours of work went into those ones. About 180 hours of work went into making those clothes. For about 3 weeks I worked on that. It wasn't easy because you had to make sure that the lines were absolutely perfect for the stitching. You had to line up all the pieces. So one of them has a coat which is related with blues and reds in the ties. And the other one is related with green and brown colours. Last time I made them, in the end they looked very plain and boring. So if you looked at them they didn't look like anything special. So I decided to play with the ties and I thought I'd add some more ideas and put in some different lines and some waves and some embellishments. Like a waterfall and some flowers on the waist. And there's some snakes. It's the little details on the clothing that really makes them pop in the end. So you can see more clearly the picture of what I'm trying to create.
Mike: I have to say that when I came into the gallery, I almost thought that they were just two more people standing in the room and I had to kind of squeeze past them. And then I realised, oh my gosh is this the Wearable Art Festival again? Were you influenced by the idea of Wellington as the home of Wearable Art?
Alesha: I've heard about that, the festival. But my thoughts were really about my home area. We don't have Wearable Arts in my home area, that's unfortunate. So I thought I'd bring them down to show. I'm not going to sell them.
Mike: Taking them back.
Alesha: Yeah. Maybe I can do it again.
Mike: This could be the start of something big in Kaitaia!
Mike: Stefan Hall is one of the tutors at The Learning Connexion. He's Deaf himself which is an added bonus. Stefan Hall reckons the students' work is a reflection of their Deaf experience.
Stefan: A lot of people have told me they based it on their experience, on their life in the past. And other people are trying to explore further than what they're thinking now. What I like about these Deaf students, they explore what they can do. Once they explore what they can do they know that the next exhibition they can make it better and better. So this is the starting point for some of them. Some of them are new, some of them have been there for 3 years. Some of them have been there 3 years you've probably see a huge step, made a difference. I think yeah, it's about, they express what they feel. There's no limit, there's no restrictions of what they're allowed to do. It's what they can be. It can be anything, you know, painting, sculpture, photography, computer graphics, anything they want.
Mike: No Deaf course would be possible without the tutors being able to communicate with their students. And not being able to afford an interpreter, The Learning Connexion has opted for the next best thing: a hearing communicator. And it's the signing and art combo that Ann Eves says makes it her dream job.
Ann: It's been fantastic. So when I started there were three Deaf students onsite and I would just communicate in their classrooms for them.
Mike: Why was that your dream job? Signing and art, I mean that seems an interesting combination?
Ann: It's a really weird combination. I went through Deaf studies courses at Victoria University and absolutely loved it. And I spent time working with Deaf kids in kindergartens and primary schools. But that was kind of a part time job and I couldn't carry it on so I had to go into office work which isn't where I belong. And also, I just really love art. I've got a little bit of an art background but any chance to develop that would be fantastic so I thought this would be the perfect opportunity.
Mike: That's Learning Connexion Deaf Course Communicator Ann Eves ending that item on the Deaf art exhibition that had it's first season last year at the ROAR Gallery. And the contact details for the Learning Connexion and in particular their Deaf programme will be up on our webpage www.radionz.co.nz/oneinfive
And you're with One In Five on Radio New Zealand National, Te Reo Irirangi O Aotearoa, I'm Mike Gourley.
Email a.eves@tlc.ac.nz for more information