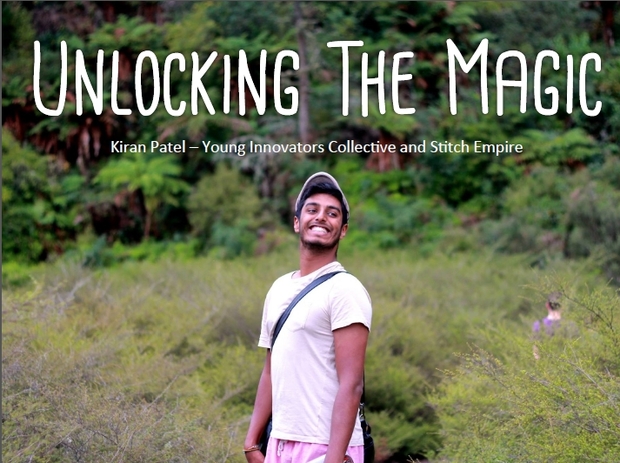 Passionate about growing the multi-cultural talents of Auckland's youth  – The Young Innovators Collective is led by 20 year old social entrepreneur Kiran Patel. A fundraiser involving youth busking along Queen Street and a photography exhibition open to youth across the country are just some of the projects created by this Indian New Zealander. Lynda Chanwai-Earle follows Kiran on a tour through Auckland's CBD to learn that you don't have to be alone to "sing for your supper"
It's all about young people coming together and creating opportunities for themselves around youth outcomes - insuring that young people are given the right environment and space to build the skills they need for the 21st century. We're an ecosystem of various projects - very much in the technology space.
Kiran Patel's enthusiasm for life is the first thing that strikes you about this young Indian New Zealander from Auckland, but Kiran would probably describe himself as a child of the globe.
Born in Whangarei Kiran's parents left for Holland when he was just a few months old, (his father was an engineer working for Shell at the time). Most of Kiran's childhood was spent attending an American School in the Hague before his family shifted to England briefly.
When he was in his early teens Kiran and his family moved back to New Zealand. Kiran completed his secondary schooling in Auckland before he began a film making degree at Auckland's Unitec, Institute of Technology. It was about halfway through his film making studies that Kiran realised he wanted a broader career.
That's when he initiated the Young Innovators Collective (YIC) and now at 20, Kiran is the Asia New Zealand Foundation's youngest social entrepreneur and member of their Leadership Network.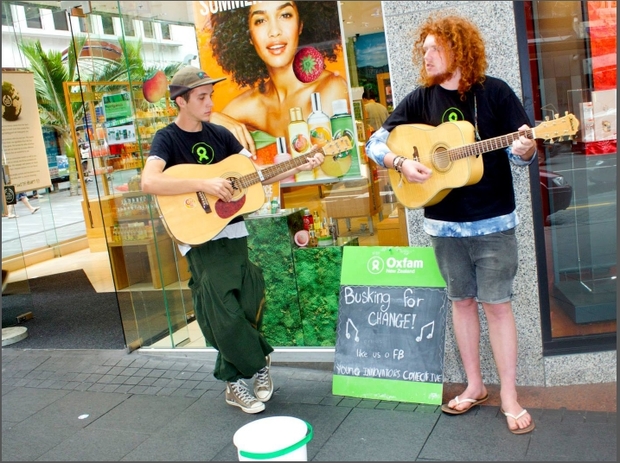 I'm following Kiran down Queen Street as he explains that the YIC came out of a group of like-minded fellow students wanting to have a busking festival down Queen Street - which in turn came out of the desire to raise funds for OXFAM's relief aid for Typhoon Haiyan (aka Typhoon Yolanda). Typhoon Haiyan devastated South East Asia and the Philippines in November 2013. Within four hours the YIC buskers had raised almost $500.
Auckland's multi-ethnic and multi-cultural youth and the communities they live among are just what Kiran draws upon when creating new start-ups or community projects.
The range of YIC projects are vast - from community based volunteer work and not-for-profit fund-raising campaigns to online photography exhibitions, short films and fledgling I.T. start-ups. YIC will try to support any new start-up says Kiran, absolutely anything. He and the other YIC collaborators skillfully utilise social media to get their messages out and when they need to, they work from the very cool ambiance of the Biz Dojo in Karangahape Road - at the heart of Auckland's CBD. 
"He was too young to join the Leadership Network when we first heard of him. Kiran's really driven," says Melanie Crawford (Leadership Network Co-ordinator, Asia New Zealand Foundation), "and he's someone we're keeping an eye on, especially in the future."
As we trace the footsteps of the busking festival near Aotea Square, Kiran tells me about his other projects; STITCH EMPIRE is currently an accessible online fashion site for youth - to enable them to test fledgling designs in a supportive environment.
Kiran tells me that the all-inclusive nationwide photography exhibition that drew professional and non-professional photographers alike from across the country. "Essentially you could submit your photograph of your absolutely favourite place in New Zealand." This online exhibition provided delightfully surprising images from across the country and was hugely popular while it lasted.
Kiran tells me that he loves the multi-platform approach to YIC start-ups and the entrepreneurship this encourages in Auckland youth that join. Clearly Kiran appeals to youth in Auckland because diversity and sustainability are givens in his own life.
We're redefining the meaning of "success." We're building "community."
Links