Children walk across the bridge, 1935
Transportation and crossing the river here became the lifeblood of the community, without it we have no contact with outside world.
If you're driving from Dunedin and heading southbound, it is difficult not to be in awe of the beauty that is the Balclutha Road Bridge. The art deco-style bowstring structure, built between 1933 and 1935, is an engineering feat that has become the emblem for a community, and this year, celebrates its 80th birthday.
Gary Ross, curator for the South Otago Museum, says there was a great deal of pride involved for those who crossed the bridge for the very first time. This monumental structure symbolised greater prospects and a new-found freedom, allowing for safe and easy access from Invercargill through to Dunedin.
What's more, the benefits of greater communication and trade with other parts of the region also became possible, which meant that locals no longer had to rely solely on those few businesses who capitalised on the township's physical isolation and charged excessive rates for their services.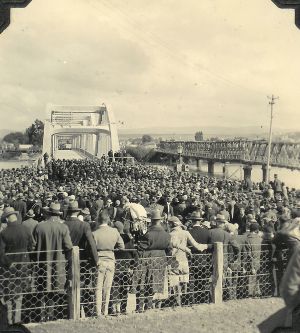 Growth of the town was crucial, says Ross. "We went in twenty years from a stick and bark hut to having five hotels and five churches." The Balclutha Road bridge was built purely out of necessity, replacing a run-down single-lane bridge designed for horse-drawn carriages which was not fit for the increasing demands of motor vehicles.
"Transportation and crossing the river here became the lifeblood of the community," says Ross. "Without it we have no contact with outside world [and] if you were to go back to a time without a bridge, you had to walk for miles and miles through swamplands to find private passage."
It was largely boys and men who made tracks through the swamplands to Dunedin. Not exactly the kind of conditions suitable for a lady. One letter held by the South Otago Museum, written by Mrs Margaret Bain documents her discontent with the lack of suitable transport. She refers to the inadequacies of her situation and the feeling of being kept a prisoner for so long. The opening of the bridge was the cause for a major celebration; people came from near and far in their thousands to christen it by foot, for the very first time. Children were sent in orderly rows to make their way across, dressed in their Sunday best, followed by an eager crowd of adults, and thereafter, floats organised by local businesses and a parade of aircrafts and free aeroplane rides via the local aerodrome.

Crystal icecream truck at the opening of the Balclutha Road Bridge, 1935